Walsall: The West Midlands' second favourites go to Wembley
Last updated on .From the section Football
Almost ever since the day they launched it all in 1888 as founder members of the Football League, the arguments have raged between fans of Aston Villa, West Bromwich Albion and Wolverhampton Wanderers as to who are the biggest club in the West Midlands.
Even supporters of Birmingham City, the last West Midlands team to play European football, and Coventry City, the last West Midlands team to win the FA Cup, have their own claims to comparative greatness.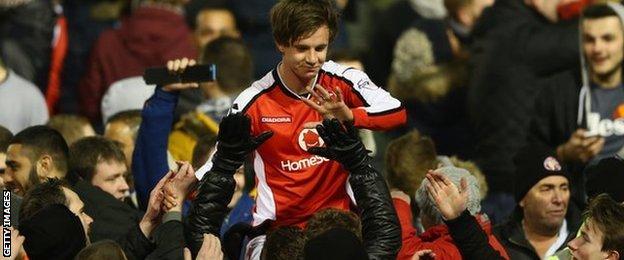 But the one thing that the entire region appears to be agreed on is that everyone's second favourite side is Walsall.
It helps explain why, despite average home crowds of just 4,500, more than 27,000 will follow the Saddlers to Wembley on Sunday to watch them face Bristol City in the Johnstone's Paint Trophy final.
Since the old Empire Stadium was first opened in 1923, Walsall fans have had to sit silently and suffer while all their rivals have made regular visits to north-west London.
But, having reached Wembley, the Saddlers are now on standby for the greatest day in their 127-year history - regardless of whether they win or lose against the runaway League One leaders.
So just what does Walsall have to offer? Just why are they so well liked?
Dean Smith - the original 'Ginger Mourinho'
Long before Burnley's fans pinched the nickname for Sean Dyche, Walsall's supporters came up with that term of endearment for Dean Smith who, at only 44, is now the fourth longest-serving manager in English professional football.
But as they memorably showed by giving one of Smith's Saddlers predecessors Richard Money the nickname "Dickie Dosh", Walsall fans have always had a way with words.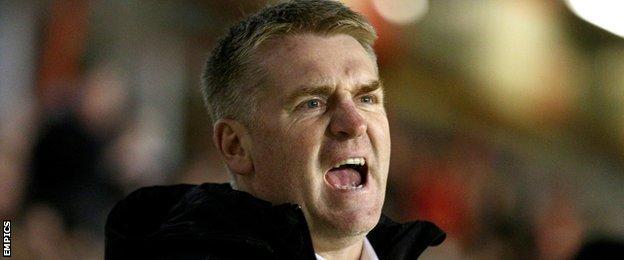 Born and bred in the town, Smith first served the club as a centre-half, scoring twice in 142 league appearances before going on to represent Hereford United, Leyton Orient, Sheffield Wednesday and, briefly, Port Vale with distinction.
By then he had rattled up 54 goals from 566 games, a prolific scoring record for a defender. He then coached at Orient before returning to the Black Country in 2009 - initially as youth coach - before succeeding Chris Hutchings as manager in January 2011.
Since then his brief has been to keep Walsall in League One while, at the same time, making the club financially stable, by moulding rough diamonds to sell on at a profit.
But in the last three seasons, despite the continued loss of his best players, he has had the Saddlers punching above their weight as outside play-off contenders.
And he has done it almost invariably with a smile on his face, making friends wherever he goes - except perhaps in the referee's room.
Admired by their neighbours?
Birmingham City boss Gary Rowett, himself a native Midlander, identifies with Walsall's big day out, having taken Burton Albion to the League Two play-off final at Wembley 10 months ago.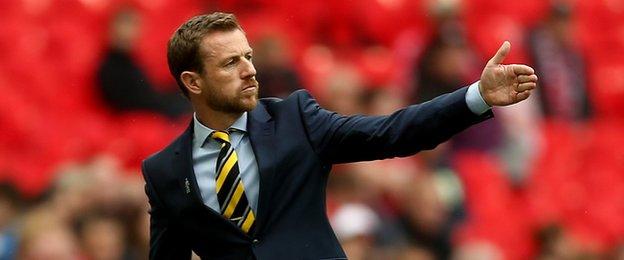 "We went through a similar experience at Burton, which is not a dissimilar-sized club," he told BBC WM.
"It's a special occasion. I hope they enjoy it and embrace it but also play well and go on and win the game.
"They've already achieved a massive amount under Dean Smith over the past three or four seasons. In fact, they've overachieved, with what they've got and the budget they've got."
Loved by the local media
BBC Midlands Today's Nick Clitheroe has been reporting on the Saddlers for 28 years.
"Walsall were the first club I was sent to cover when I joined the sports team at BBC WM in 1997.
"My first trip to interview manager Chris Nicholl was slightly intimidating. I had been warned that you could never tell when he was being serious or just winding you up. He certainly was the king of the straight face but it didn't take long to get over my nerves and I soon warmed to him.
"In fact every Saturday afternoon trip to Bescot was a delight. You became a familiar face to the staff and everyone would stop for a chat. It was a good team too with Martin O'Connor, Scott Houghton, Kyle Lightbourne and, of course, the irrepressible keeper Jimmy Walker.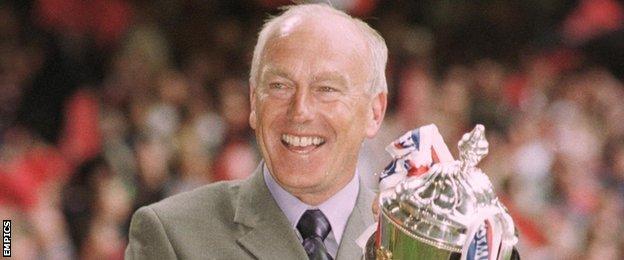 "Of all the friendly managers at Walsall in my years it would be hard to beat current boss Dean Smith. I don't know anyone else who makes you a cuppa when you turn up to the training ground.
"But perhaps my favourite memory of a Saddlers boss goes back to the final day of Walsall's 1998-99 promotion season.
"Ray Graydon's side had been tipped for relegation. Instead, he led them to promotion (ahead of Manchester City) to what is now the Championship. The final game was at Stoke and Graydon had so many interviews to do afterwards the team coach left without him. Instead, he hitched a lift back down the M6 in the BBC WM car and invited us all back to his local pub so he could buy us a drink to celebrate promotion.
"But if there is one man who sums up Walsall to me it would be Mick Kearns.
"The former keeper has been goalkeeping coach, run the community scheme and summarised for WM during my time following the Saddlers. A giant of a man, always with a beaming smile and a handshake that crushes your fingers. So I'm desperately hoping that Adam Chambers lifts the cup on Sunday for the fans, the manager, the players and the staff but mostly for 'Mr Walsall' Mick Kearns."
Walsall - the place to get Saddled up
In a town whose population was just under 270,000 at the last census in 2011, to be taking 27,000 fans to Wembley is no small achievement. Walsall will be closed on Sunday.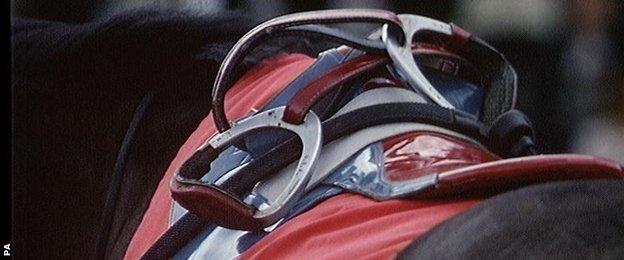 Walsall is still a place perhaps once known for its past. The fact that it it has long been established as the main production centre of the English leather industry lives on in the club's nickname - The Saddlers - and there is indeed still many a saddle maker in the town.
And the name Bescot, where Walsall have played for the past 25 years, was once known simply for being a British Rail goods yard depot.
But anyone who has travelled up and down the country's motorways over the past half-century can instantly place Walsall on the map. It's not only the home of the RAC control centre, it's also where the M5 starts.
The great survivors
From the moment Walsall Football Club were elected into the Football League in 1892, just four years after its foundation, life has mostly been about mere survival - in a very real sense in the 1984 League Cup semi-final second leg against Liverpool, when a wall collapsed at Fellows Park.
There were the heady times when one of their former owners, Terry Ramsden, arrived in his helicopter to bankroll the club, but the collapse of his business empire led to hard times and, ultimately, to the loss of their home at Fellows Park, which was levelled to put up a supermarket.
The Morrison's that now stands there remembers the past with sepia prints of old Saddlers favourites adorning its walls.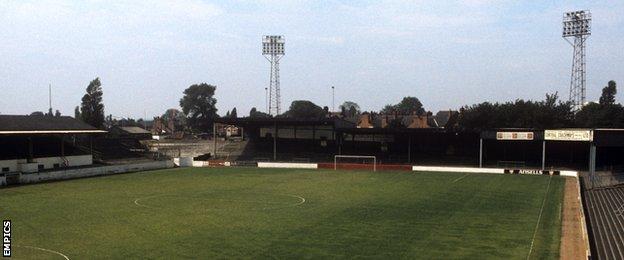 But since the involvement of owner Jeff Bonser for the past two decades, while Saddlers fans like the odd moan about a lack of ambition, they remain solvent, earning as much from off-field affairs - their prominent motorway signs and flourishing Sunday market - as they do on an average Saturday afternoon gate.
They have even got Sir Elton John lined up to play at the stadium in June. The revenue from that is one reason the Saddlers are still standing.