Sexist chanting must be tackled says FA after 'horrible' footage
Last updated on .From the section Football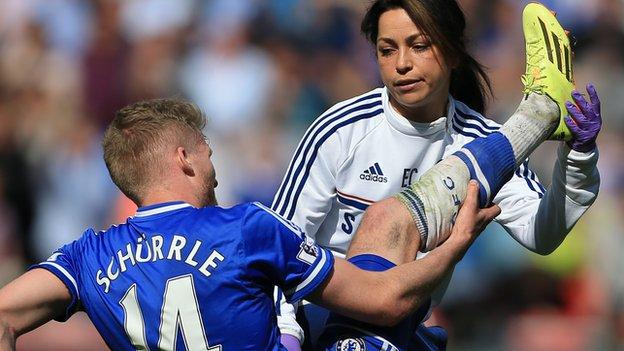 The Football Association is calling on fans to report sexist abuse at games after being shown disturbing scenes of women officials and staff being subjected to obscene chants.
Footage obtained by the BBC shows Chelsea's female medic Dr Eva Carneiro and a female assistant referee Helen Byrne suffering taunts during recent matches.
FA board member Heather Rabbatts described the abuse as "horrible".
She said it should not be tolerated, adding: "We are absolutely encouraging people to report incidents like this."
The footage was taken at Chelsea matches against Manchester City and Manchester United, as well as a game in the Football League.
Chelsea said in a statement: "'The issue of equality is one that we take extremely seriously at Chelsea Football Club and we abhor discrimination in all its forms, including sexism. We find such behaviour unacceptable and we want it eradicated from the game."
This season, 25 match-day incidents of sexist abuse have been reported to anti-discrimination campaign group Kick It Out and equality group Women in Football (WiF). Last season, there were just two.
However, a lack of evidence means no club or fan has ever been punished by football's governing bodies.
Manchester City admitted "a breakdown in communication" meant "the usual investigation process was not followed".
The club added: "A new specific guidance on sexist abuse was introduced from the very next game and a new training programme implemented."
Manchester United said: "No complaint was made at the time, so any feedback of this nature made after the event has to be referred to the police, which the club did within 24 hours."
The Football Supporters' Federation said it "doesn't receive many complaints in relation to sexist chanting at games, although that isn't to say it doesn't happen".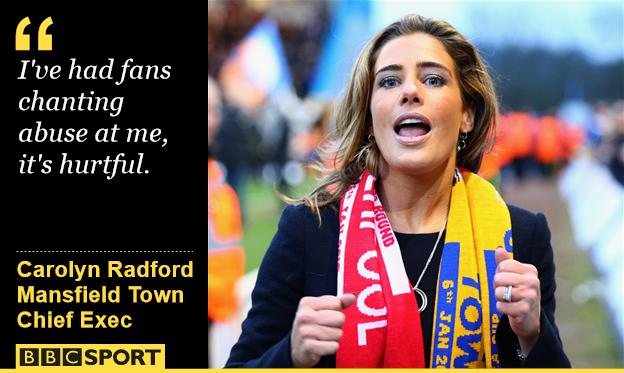 There have been a number of high-profile sexism cases in football in recent years:
Carolyn Radford, the chief executive of Mansfield Town, says sexist chanting is a big problem.
When she joined the League two club at the age of 29 in 2011, the headlines were about her blonde hair and looks rather than her university and legal qualifications.
"I've had fans chanting abuse at me," she said. "It's hurtful."
Radford said such abuse was not widely reported because women are "kind of made to feel" they should tolerate it.
"If it was racist language being chanted at me, perhaps people would do something about it," she added. "But because it's 'banter', so to speak, I've got to flick my hair and just accept it."
Anna Kessel, chair of WiF, said sexist chanting continued at matches because stadium safety managers and stewards were often not briefed on how to recognise and deal with it.
That contrasts with the stated zero-tolerance approach to racist or homophobic abuse at games.
"Sexism in football is so entrenched within the culture of the game to a point where racism is recognised as wrong but sexism is just recognised as banter," said Kessel.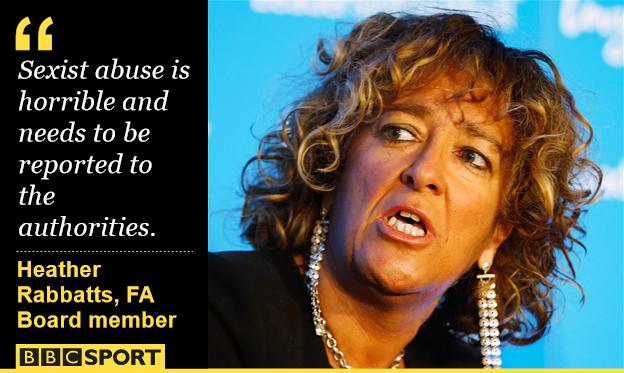 "Women don't have the confidence to report it. This is the message that we're getting through our network. They are very reluctant to complain. They feel they should put up with it."
Women make up 20% of attendees at Premier League games.
The FA also says it is trying to encourage more women to get involved in football via several initiatives - but Rabbatts admitted more needs to be done to stamp out sexism in the game.
The former Millwall deputy chairwoman said clubs, leagues and authorities needed to take "collective responsibility" for tackling the issue.
"It's about how we all try and ensure the game is open and available to everyone," said Rabbatts, the only female on the 11-strong FA board.
How to report sexist chanting:
The FA: 0800 085 0508 or footballforall@thefa.com
Kick it Out: 0800 169 9414 info@kickitout.org or via the Kick It Out app
Women in Football: info@womeninfootball.co.uk