Papiss Cisse & Jonny Evans charged with spitting by FA
Last updated on .From the section Football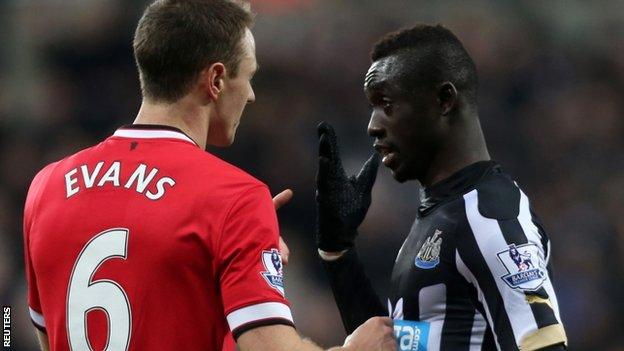 Newcastle United's Papiss Cisse and Manchester United's Jonny Evans have been charged with spitting by the Football Association.
Cisse, 29, had earlier apologised for his part in the incident, which happened during Manchester United's 1-0 win at Newcastle on Wednesday.
Defender Evans, 27, has denied deliberately spitting at Cisse.
Both players face a six-game ban if found guilty and have until 18:00 GMT on Friday to respond to the charge.
Cisse would also have to miss an additional game having already received a ban this season.
The FA said in a statement: "The charges are in relation to an alleged breach of FA Rule E1[a] in that in or around the 38th minute of the game the two players spat at each other."
The incidents were not seen by the match officials but caught on video. A three-man panel of former referees reviewed the footage on Thursday and agreed the players should have been sent off, prompting the FA to bring a charge.
Cisse had already said sorry for his role in the episode.
"I have apologies to make to a lot of people today," the Senegal international said. "I reacted to something I found very unpleasant."
He said he wanted to say sorry to his team-mates, to Newcastle supporters, to Evans and "to every football fan who saw the incident between myself and Jonny".
The former Metz and Freiburg player added: "Sometimes it is hard not to react, particularly in the heat of the moment.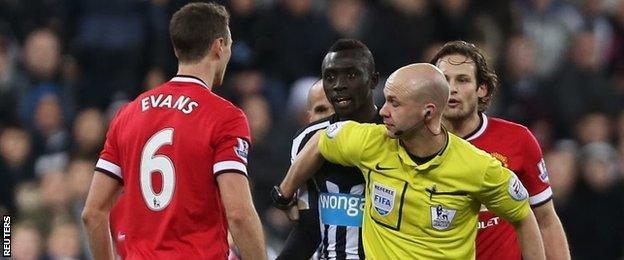 "I have always tried hard to be positive a role model, especially for our young fans, and yesterday I let you down.
"I hope children out there playing football for their clubs and schools this weekend will know better than to retaliate when they are angry.
"Perhaps when they see the problem it now causes me and my team they will be able to learn from my mistake, not copy it."
In a statement issued earlier on Thursday, Evans said: "I would like to make it clear that I did not spit at Papiss Cisse."
The Northern Ireland international added: "Having woken up this morning, I am shocked to have seen the media coverage from last night's match.
"I was totally unaware of any spitting incident and had assumed that the issue at the time was with the challenge and his attempted retaliation to the tackle from the floor.
"During the game, Papiss Cisse and I spoke about the incident and it is clear by my reaction in the television footage that I was totally surprised by any suggestion of spitting.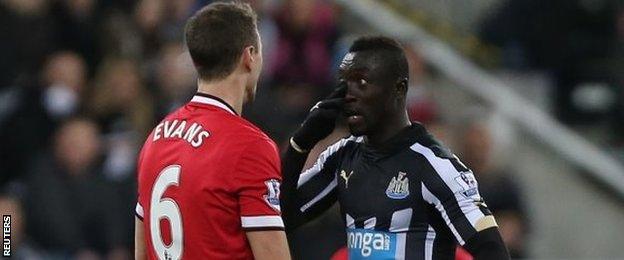 "It is not in my character or in my nature to spit at anybody, nor is it something I have ever done or would ever do. It is certainly not something that I did last night."
The incident was condemned by former Newcastle midfielder Dietmar Hamann and ex-Manchester United player Phil Neville.
Neither Newcastle manager John Carver nor Manchester United boss Louis van Gaal said they had seen either player spit.
"I can't comment on it," said Carver, whose side were beaten 1-0. "I just know there was a fracas on the halfway line."
Van Gaal said: "I don't think Jonny Evans is a spitter. Maybe spitting on the floor, but we were on the bench and you cannot see from there."
Speaking on Thursday, the Dutchman added: "It is like I said after the match, he was not aware he was spitting.
"He has said that also. I believe him. For me, the matter is done."
On the prospect of a ban, Van Gaal added: "I think the FA is very wise."