Adam Murray: Mansfield Town look to 'wash hands' of relegation
Last updated on .From the section Football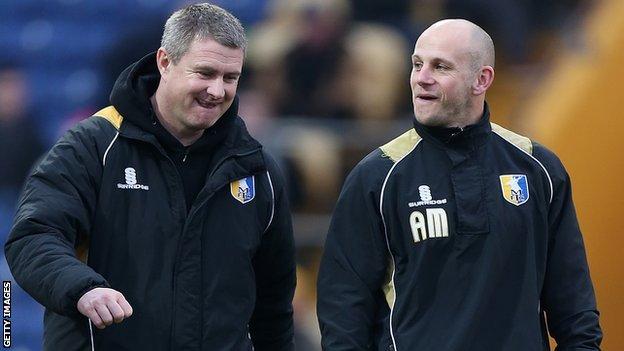 Mansfield Town manager Adam Murray wants a "marginal gains" approach to staving off relegation, even going as far as making sure his players learn how to wash their hands properly.
The Stags are only seven points clear of the bottom two in League Two.
And Murray told BBC Radio Nottingham the every-little-helps mindset may make the difference in their survival bid.
"Teaching the lads to wash their hands properly could cut 2% of illness, which might win us three points," he said.
Murray, who took over as manager after Paul Cox left in December, has been keen to make the most of the tactics famously adopted by the British cycling team that were so successful in the 2012 Olympics.
Youngest managers in English league football

Adam Murray (Mansfield), born 30 Sep 1981

Karl Robinson (MK Dons), born 13 Sep 1980

Alex Neil (Norwich), born 9 June 1981

Shaun Derry (Notts County), born 6 Dec 1977

Lee Johnson (Oldham), born 7 June 1981

Eddie Howe (Bournemouth), born 29 Nov 1977
"We need to take everything up a notch," said Murray. "I am somebody who looks for the 'one per cents'.
"I have a guy I work with whose main role is [identifying] marginal gains. He goes into some of the top companies and looks at where he can make them better.
"I am working with him on certain things at the moment - the sports scientists, the analysts, the strength and conditioning guys, the youth set-up.
"We are trying to revamp everything and put fresh ideas in to it. Obviously that is a lot of work.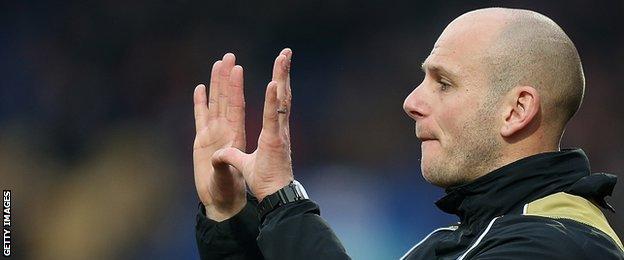 "We are dealing with a sports psychologist who comes in once a week and does group work and individual work. It is going down to the grains of the details, which one per cents we can change, then we throw them all back together and see if we get a better percentage coming out."
Murray, whose side have won two of their last three matches, but are still 17th in the table, said getting results had been tough but the club was united in support for his innovative approach.
"When you have the infrastructure in place you can solely focus on picking points up," he added.
"There is loads to change and the good thing is everybody is on the same page."