Rangers: Llambias tells Dave King to name nominated advisor

By Chris McLaughlin
BBC Sport
Last updated on .From the section Football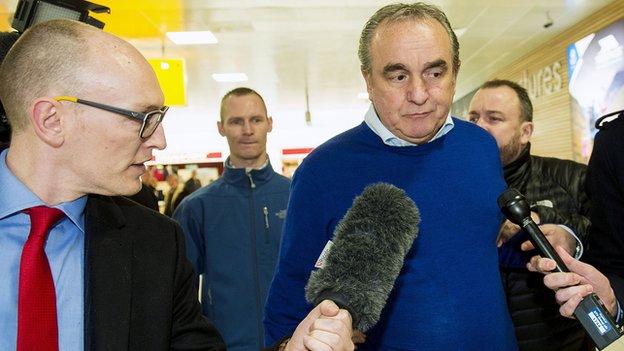 Rangers chief executive Derek Llambias has challenged Dave King to tell shareholders who his nominated advisor to the stock exchange is going to be.
Shareholder King is expected to assume control following Friday's extraordinary general meeting.
A new Nomad must be appointed within 30 days to prevent the club being de-listed from the stock exchange.
"We're in a fight for Rangers but it's for the good of Rangers," Llambias said.
The former Newcastle United managing director arrived at Glasgow Airport on Thursday afternoon flanked by bodyguards and was asked if the fight for Rangers was over. His reply was short: "No, no, it's not."
Indicating King's expected arrival in Glasgow later on Thursday, Llambias said: "Where's your money Mr King, who is your Nomad?"
King later responded by saying: "It's not my nomad, the club has to have a nomad and Llambias should understand that.
"I've ensured there is another nomad willing to come in but the club has to appoint them. That process can only happen after the general meeting."
King's resolutions to be voted at the EGM were to remove Llambias, finance director Barry Leach, chairman David Somers and James Easdale from the board and to appoint himself, Paul Murray and John Gilligan as directors.
Somers and Easdale have since resigned from the board.
South Africa-based King has indicated he would delay becoming Rangers chairman, should he win the shareholder vote, and that Murray would become interim chairman.
Question marks have been raised about King's involvement following his conviction for tax offences in South Africa.
King, who like Murray was previously on the Rangers board, believes he will not be blocked from being a director by the stock exchange or the Scottish Football Association.
SFA chief executive Stewart Regan says he cannot comment on the "process" underway at Rangers but added: "For Rangers fans in particular and all of those who are watching what's gone on over the last three years, I think it's important that there's stability and harmony and that whoever leads Rangers can actually get on with doing that and trying to get the club back into some positive shape again.''
He also said he could comment on Dave King's decision not to become a director until being cleared by the SFA.