Women in Football: Stadium staff told to act on sexist abuse
Last updated on .From the section Football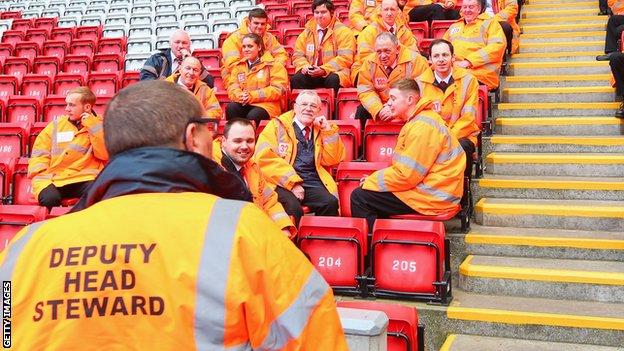 Stewards and safety officers are being briefed on how to spot - and tackle - sexist abuse in football stadiums.
Women in Football, which represents more than 1,200 women, has contacted all 92 Premier and Football League clubs about the issue.
Footage obtained by the BBC shows Chelsea's female medic Dr Eva Carneiro and assistant referee Helen Byrne suffering taunts at games.
Minister for Sport Helen Grant said sexism "should not be tolerated".
The Football Association has called for fans to report sexist abuse.
A WIF spokesperson added: "This is the first time that clubs have specifically been asked to focus on the issue of sexist abuse."
WIF's letter to clubs explains what should be considered sexist chanting and tells them that any incidents should be dealt with as "they would do with racism".
It asks clubs to brief stewards on how they "would be expected to respond to any such incidents".
It added: "This sends out a message that sexism is unacceptable and that we want the game to remain safe for everyone."
The month-long campaign will focus on social media and will aim to persuade more fans to report sexist discrimination.
WIF are asking people to tweet the hashtags #ShameOnTheGame to highlight abuse and discrimination and #SheBelongs to celebrate women.
Clubs have also been asked to champion their female staff before International Women's Day on Sunday.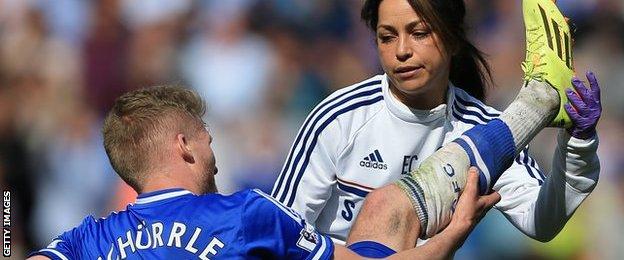 The footage showing sexist chants at Dr Carneiro and Byrne was taken at Chelsea matches against Manchester City and Manchester United, as well as a game in the Football League.
Chelsea said in a statement: "The issue of equality is one that we take extremely seriously at Chelsea Football Club and we abhor discrimination in all its forms, including sexism. We find such behaviour unacceptable and we want it eradicated from the game."
This season, 25 match-day incidents of sexist abuse have been reported to anti-discrimination campaign group Kick It Out and WIF. Last season, there were just two.
However, a lack of evidence means no club or fan has ever been punished by football's governing bodies.
WIF spoke to 600 women employed in the sport last year and said 66% of them had witnessed sexism in the workplace with 89% of those saying they had not reported it.
"While we recognise progress is being made, there are still too many barriers to women's progression in the industry and acceptance by the sport," said WIF chair Anna Kessel.
"That is why we are asking clubs to champion female talent as well as raise awareness of sexist abuse and discrimination and how those affected can report it in a bid to bring about a change in attitudes."
Social media reaction
General director of Christians in Sport and director of Cambridge United Graham Daniels: "Shameful taunts aimed at Chelsea's Dr Eva Carneiro. We must fight the blight of #sexism."
Former England goalkeeper David James: "@Anna_Kessel totally agree with your words on @BBCBreakfast."
Steph Oscroft, Tranmere Rovers Ladies player-manager: "Everyone has a place in football, regardless of gender! Women have come so far in football... but... there's a long way to go."
Bethany Ellen Scott, strength and conditioning coach at Colchester United Academy: "Great to see the issue of sexism in football being highlighted in the news today."
How to report sexist chanting:
The FA: 0800 085 0508 or footballforall@thefa.com
Kick it Out: 0800 169 9414, info@kickitout.org or via the Kick It Out app
Women in Football: info@womeninfootball.co.uk, #ShameOnTheGame