Gunmen wound five Kano Pillars players
Last updated on .From the section Football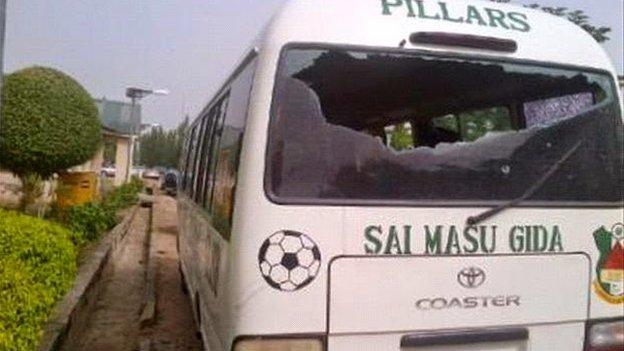 Five Kano Pillars players have been shot by gunmen in an attack on the club's entourage as they travelled to Owerri for the start of the new Nigerian Premier League season.
"Five players were injured from gunshots - Gambo, Ogbonaya, Eneji Otekpa, Murtala Adamu, and Moses Ekpai," the club wrote on Twitter.
"The gunmen also snatched handsets and other valuables from the players".
Saturday's match against Heartland has been postponed indefinitely.
Kano were travelling in a bus carrying 25 people, including 18 players, when the incident occurred at about 13:15 local time.
The five injured players are receiving treatment at the Federal Medical Centre in Lokoja.
On Friday, Kano central defender Reuben Ogbonnaya told BBC Sport "I give God the thanks because we don't know what could have happened. I might not be talking to you now.
"We were on our way to our first League match this season. We couldn't do anything at that moment. We couldn't run, we couldn't defend ourselves. The men were with guns. They collected our money and our phones.
"They asked us to come down (from the bus), then they said we should stay inside. They started shooting at that same point. Thank God no lives were lost.
"We are passing through pain - especially my captain. But the injured players are feeling a bit better than yesterday."
The incident means the start of Kano's domestic season, in which they aim to defend their title, has been delayed and it looks set to affect their upcoming Champions League first-round, first-leg match against Moghreb Athletic Tetouane.
The Nigerian Football Federation has written to the Confederation of African Football requesting postponement of the 13 March fixture.