Brian McClair: Sir Alex Ferguson recommendation led to SFA role
Last updated on .From the section Football
Chief executive Stewart Regan revealed Sir Alex Ferguson's recommendation was a factor in the Scottish FA's appointment of Brian McClair.
Regan also highlighted new performance director McClair's achievements at Manchester United in producing players for the first team.
McClair intends to review all aspects of youth development and hopes to build on the work of predecessor Mark Wotte.
And the 51-year-old said "fun" is at the centre of his philosophy.
The former Celtic, Manchester United and Scotland forward will take up his new role in June, leaving his academy director role at United.
"There are some amazing challenges ahead," he said.
"The biggest part of for me was that I asked people if they thought I could make a difference. Everyone I asked said 'yes'. What that difference will be, we'll see when I've come in and had a look at everything I'm responsible for.
"I think the vision has already been dictated by the SFA. I want to enjoy myself. It should be enjoyable; it should be fun - for kids particularly.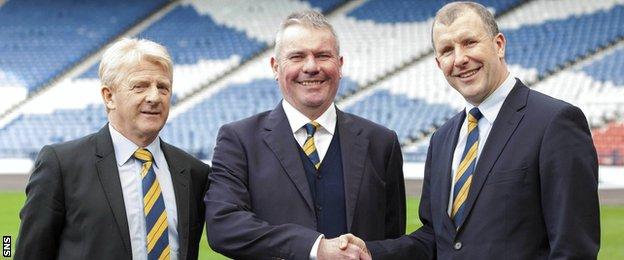 "My responsibility is to the child - we want the child to be at the centre of everything that's going to happen, and we want them to have fun. That would be my big philosophy."
Dutchman Wotte left the performance director role after three years and instituted performance schools across the country.
"We have to be trying to do things together," said McClair. "It's not that I or the SFA are going to be saying to the clubs, 'you have to do' and vice versa. There has to be relationships and agreements about what everybody would like.
"My view is we should all try and push and pull in the same direction. Football's such a fantastic sport that you're never going to agree with anyone on everything, but you can get a consensus that should work for the greater good.
"Scottish football looks to be on the up. There are a lot of good things happening. The national team are doing very well under Gordon Strachan's stewardship."
When questioned on the key elements of success for a young footballer, McClair replied: "I think the opportunity to practice, good coaching, desire and a lot of daydreaming - don't let anybody steal your dreams."
Describing McClair as the "standout candidate" for the recruitment panel that included former Scotland managers Andy Roxburgh and Walter Smith, as well as current boss Strachan, SFA chief executive Stewart Reagan added: "Brian's worked for nearly 25 years at Manchester United and their track record speaks for itself.
"Brian's worked for Sir Alex Ferguson, whose personal endorsement of Brian was taken into consideration when we made the appointment.
"His interest in elite player development, his experience working with young players and particularly his experiences in the Premier League we believe will add huge value to Scottish football."