Bafetimbi Gomis' treatment impresses Sam Ricketts
Last updated on .From the section Football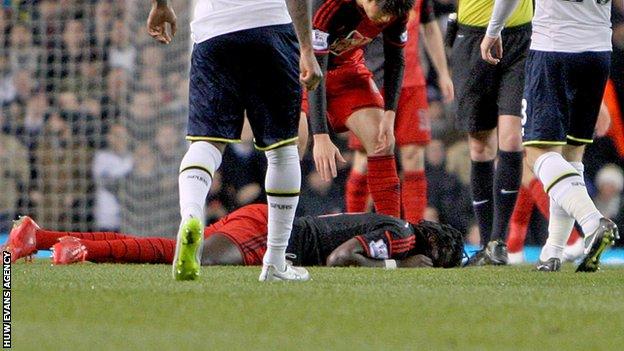 Wales defender Sam Ricketts was impressed by the treatment Bafetimbi Gomis' received after fainting in Swansea's match at Tottenham.
France striker Gomis, 29, has a pre-existing medical condition that makes him susceptible to fainting.
Ricketts playing for Bolton when Fabrice Muamba suffered a cardiac arrest at White Hart Lane in 2012.
"Medical staffs are so well drilled at dealing with emergency situations," said former Swansea player Ricketts.
"It looked like it [with Gomis] that they all knew what they were doing instantly.
"I think you're always going to be worried when it comes to players collapsing, and you start thinking of life and death .
"But I don't think Gomis is too worried. I think he's come out and said he's collapsed three times before when he was in France so he's taken the decision that he's happy to keep playing."
Gomis was carried off on a stretcher after playing only six minutes against Spurs.
The player spent a night in hospital in London, but was released on Thursday afternoon.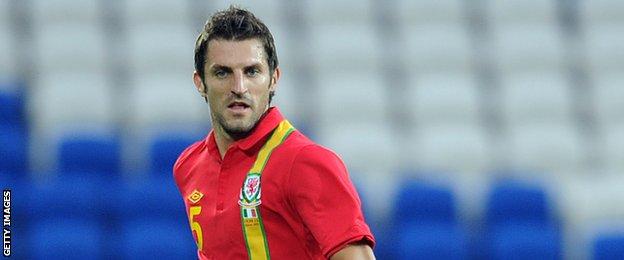 Wolverhampton Wanderers defender Ricketts said Gomis fainting brought back memories of the night Muamba suffered a far more serious medical emergency during a match at the same ground.
The former England under-21 international almost died in the incident, and had to retire from football after it was discovered he had an underlying heart condition.
"It's been fortunate that no player has collapsed since Fabrice and it just so happens that the next person to do it was at Spurs' ground as well," Ricketts said.
"It was a very surreal moment where I turned around and saw Fabrice lying on the floor and at first I thought he must have run into someone and knocked himself out and I didn't think anything of it.
"Then, next time I turned around I saw Fabrice receiving CPR on the pitch.
"Fabrice Muamba received amazing care and his recovery has been nothing short of a miracle so I know that after the Fabrice incident that huge efforts had gone into making sure that emergency procedures and how could they be improved.
"And I know they found some things that they thought could be improved from when Fabrice collapsed - and on Wednesday it certainly looked that way."