Man City & Arsenal: Is there any hope for English teams in last 16?
Last updated on .From the section Champions League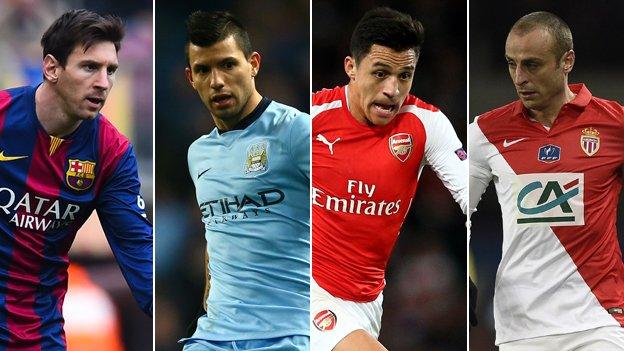 Manchester City and Arsenal will this week attempt to repair the damage inflicted in first-leg defeats as they seek to reach the Champions League quarter-finals.
So, after Chelsea's exit at the hands of Paris St-Germain last week, do the two English clubs have any hope of overturning the deficits and ensuring there is a British presence in the last eight?
If they do not succeed, it would be just the second time since 1996 that no British club has been in the quarter-finals - the only other occasion was in 2013.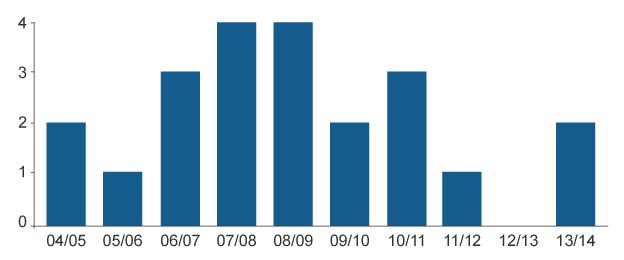 The omens do not look good
Both Premier League sides allowed their opponents to score valuable away goals in the first leg.
City have to score at least twice and shut out the likes of Lionel Messi, Luis Suarez and Neymar if they are to progress, while Arsenal need a minimum of three goals to give themselves any hope in Monaco.
History is not on either team's side, with roughly three-quarters of teams progressing if they hold a first-leg advantage. However, the differing last-minute fortunes of both teams in the first legs could be crucial.
Arsenal conceded a last-gasp goal to Yannick Ferreira Carrasco in injury time at Emirates Stadium, allowing Monaco the comfort of a two-goal advantage going into the second leg.
At Etihad Stadium - also in injury time - City keeper Joe Hart saved Messi's penalty, keeping Barca's lead at one goal.
So what's the difference between a one-goal or two-goal deficit?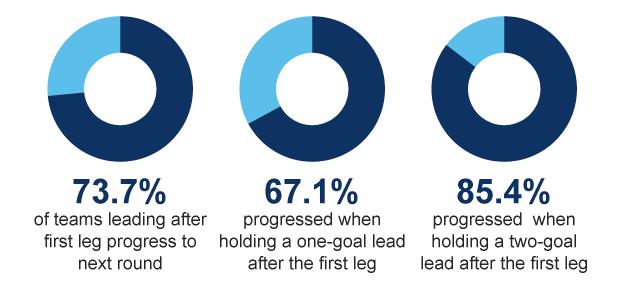 However, there is some good news for Arsenal...

But...

And Arsenal's own record at coming from behind to win in Europe is not particularly impressive. They have trailed on seven previous occasions in a Champions League knockout tie, going on to advance just once, when they fought back to knock Porto out of the last 16 in 2009-10.
Monaco v Arsenal, Tuesday 17 March

630 minutes, two goals conceded
Monaco may have impressed so far, but that does not mean they are one of the competition's entertainers.
Goals have been hard to come by in their matches, not least because they boast the meanest defence in Europe's premier competition, conceding half as many goals as their nearest rivals in that category.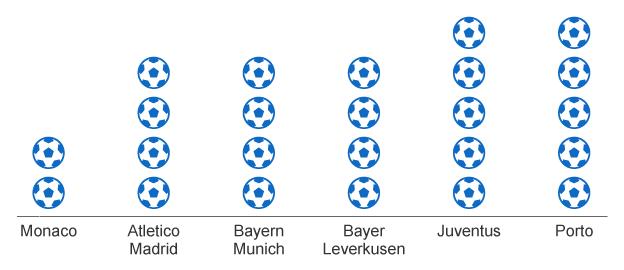 Their success is in no small part down to goalkeeper Danijel Subasic, who has played in all seven matches so far. He boasts the best saves-to-shots ratio of any keeper in the tournament, stopping more than nine out of every 10 shots that come his way.

And while Monaco have not been prolific, they did find Arsenal accommodating opponents, with their three goals in the first leg accounting for 42.9% of their goals total (three out of seven) in this season's competition.
Barcelona v Man City, Wednesday 18 March

A goal every 37 minutes
One team not short on goals is Barcelona, who have scored 17 times in seven Champions League matches. They have scored in every game they have played, perhaps not surprising given their attacking options.
Messi, Suarez and Neymar have 15 of those 17 goals, with at least one of them scoring in each of Barca's last six European matches. In all competitions, the three have played together on 24 occasions, with at least one of them on target in 21 of those matches.

Messi, of course, is the star, so how do his Champions League statistics compare with those of his compatriot Sergio Aguero, who will be City's main goalscoring threat in the Nou Camp?
The two have an almost identical goals-to-minutes ratio in Europe this season, with Messi averaging a goal every 75.8 minutes and Aguero hitting the back of the net every 76.5 minutes.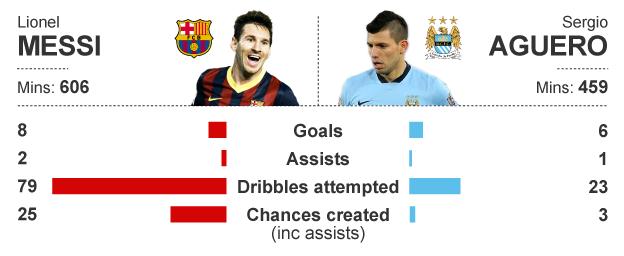 But at least Man City will have Toure
Much has been made of Yaya Toure's importance to Manchester City this season. The powerful Ivory Coast midfielder was suspended for the first leg but is available for the return.
If City are to become only the fifth team in 22 years to win a Champions League knockout fixture at the Nou Camp (after Real Madrid 2002, Juventus 2003, Liverpool 2007 and Bayern Munich 2013), could Toure be key?

His return could help as City look to repeat a feat that only Chelsea have managed. In 2004-05, in Jose Mourinho's first spell, the Stamford Bridge club became the only team to overturn a first-leg deficit against Barcelona in a Champions League tie.
Barcelona have won the first leg of a two-legged Champions League knockout tie on 10 previous occasions, progressing the other nine times.
Are Arsenal and Man City stalling in Europe?
Despite the millions spent under their rich Abu Dhabi owners, City's progress in the Champions League has been slower than might have been expected. They are yet to reach a quarter-final.
If Arsenal fail to progress, it will be the fifth season in a row that the Gunners have been eliminated at the last-16 stage.
Will either defy the odds and go further this year?