Sexism in football: Educate don't punish, says Casey Stoney
Last updated on .From the section Football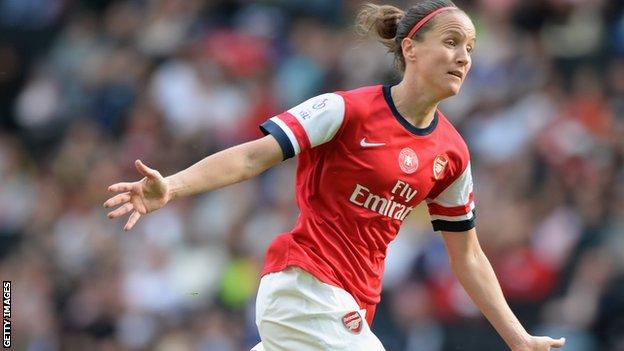 Eradicating sexism in football is about "education not punishment", says former England women's captain Casey Stoney.
The Arsenal defender told BBC Sport that the women's game "has a lot more respect now" and that football is "just reflecting society's problem".
She was speaking before claims emerged of sexist abuse directed at Australian players by England fans in Friday's Cyprus Cup match.
Women in Football (WIF) has been highlighting the issue this week.
Ahead of International Women's Day on Sunday, WIF - which represents over 1,200 females working in the game - and the Football Association have been urging fans to report incidents of sexism to the authorities.
Stoney, 32, believes punishment for such offences will not make "a single bit of difference" and says that until women are on the boards of the world's biggest companies equality "won't filter down".
"It's disappointing to hear that it's still going on because any discrimination is not acceptable," Stoney said.
"I love this game and like to think it's a game for everybody irrelevant of your gender, your colour, your sexuality.
"We've got professional players now, a professional league, and that shows you how much respect women's football has got."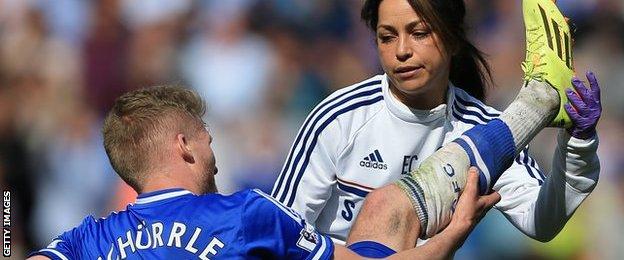 Stewards are being briefed on how to spot and tackle sexist abuse at games after the BBC obtained footage of a female Chelsea medic, Dr Eva Carneiro, and a female assistant referee, Helen Byrne, suffering taunts.
One fan, known only as Claire, who was at the Manchester United v Chelsea game where the abuse of Carneiro was filmed, told BBC Radio 5 live that some supporters challenged those who were chanting.
But after one supporter directed sexist abuse at her, Claire said she "froze" and felt "scared" to report it until after the game.
"The club need to acknowledge that this is occurring," she said. Otherwise they're going to drive away families. They're going to drive away the next generation.
"I would not take my nieces and nephews to a game. I would never want them to hear that kind of chanting.
"Ultimately they're going to lose money because I'm questioning whether I renew my season ticket next year."
Manchester United said it had reported the allegations to the police.
Lord Herman Ouseley, chair of Kick It Out, said the footage had "highlighted the level of unacceptable and discriminatory behaviour which continues to exist".
He admitted that the level of reporting was "not truly reflective of the actual situation".
How to report sexist chanting:
The FA: 0800 085 0508 or footballforall@thefa.com
Kick it Out: 0800 169 9414, info@kickitout.org or via the Kick It Out app
Women in Football: info@womeninfootball.co.uk, #ShameOnTheGame