Liverpool: Steven Gerrard faces fight - Brendan Rodgers
Last updated on .From the section Football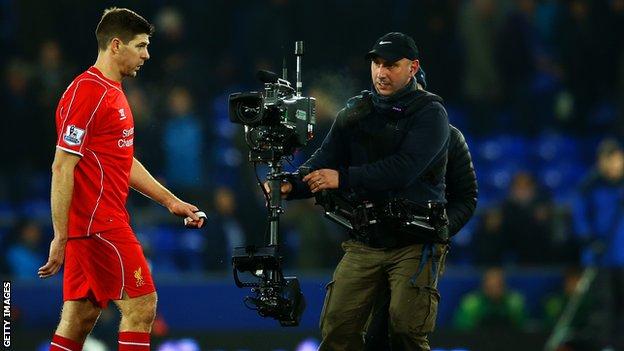 Liverpool manager Brendan Rodgers says Steven Gerrard will not "walk straight into" the team when he is fit.
Liverpool have won five of those games, with the only blemish the Europa League defeat on penalties to Besiktas.
"There is no-one in the squad who has a God-given right to walk straight into the team," said Rodgers.
"I have shown in my time here that players who are performing well, irrespective of price or status, they play - simple as that.
"Steven is very much a team man and if he was on the bench because the team was in good form and playing well, I think everyone respects that."
The absence of Gerrard - who is leaving Anfield at the end of the season to join Los Angeles Galaxy - has coincided with the team's best run of form all season, with Rodgers's men unbeaten in the league since the turn of the year.
In the season overall, Liverpool have won all six league matches in which Gerrard, 34, has not featured, scoring an average of 2.3 goals a game as opposed to 1.3 with him in the team.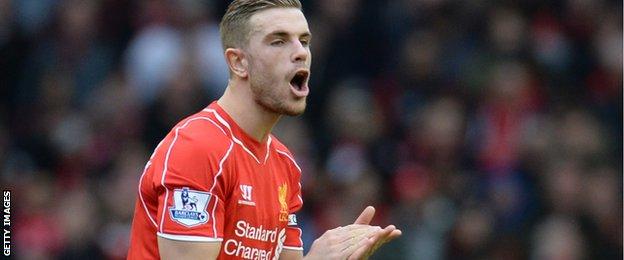 Jordan Henderson has captained the side since Gerrard's injury and has been in fine form, scoring in the two wins in the past week over Burnley and Manchester City.
The nature of his goals - powerful, long-range efforts - has led to comparisons with Gerrard, but Rodgers is keen to play down such talk.
"Jordan is a young guy who is a wonderful talent but he is a different type of player," said the Northern Irishman.
"Just because he takes a corner and Steven Gerrard takes a corner, or because he shoots from outside the box and so does Steven, it doesn't mean he is the new Steven Gerrard.
"He is Jordan Henderson and he is creating his own career and headlines."