Rangers: Dave King & Paul Murray outline plans after joining board

By Richard Wilson
BBC Scotland
Last updated on .From the section Rangers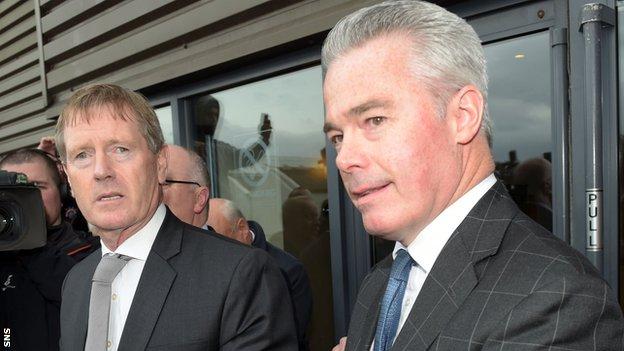 Dave King believes Sports Direct should "constructively engage" with the new board of Rangers.
The company loaned Rangers £5m and are partners in a joint retail agreement, contracts that the new directors will examine closely.
King also reiterated that he believes that he will pass fit and proper person tests by financial and sporting bodies.
"I've had no serious discussion with financial services parties that indicated concern," he said.
King was speaking after the new board were formally appointed by shareholders at Friday's extraordinary general meeting, with 85% of those who took part voting in favour of his resolutions to remove Derek Llambias and Barry Leach, and appoint King, Paul Murray and John Gilligan.
Llambias and Leach still have executive contracts with the Scottish Championship club.
South Africa-based King has deferred acceptance of the non-executive chairmanship until regulatory issues have been addressed, including the Scottish Football Association's fit and proper person criteria, and Murray was appointed interim chair.
Douglas Park was also immediately added to the board as a non-executive director.
In a media conference shortly after the EGM, King and Murray addressed a number of issues, including the manager's position, with Ally McCoist on gardening leaving having resigned last year and caretaker Kenny McDowall working a notice period.
Murray on appointing a new manager
"We are laying the foundations for a long-term project here, so getting the first-team manager is a critical, fundamental decision. We're not going to rush into that.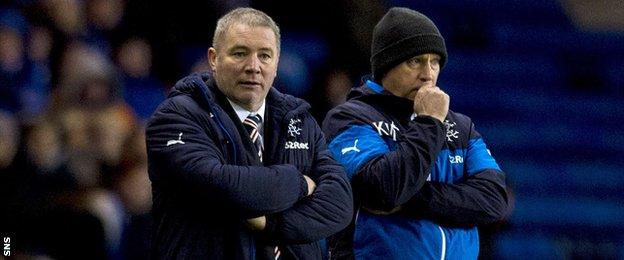 "People have been approaching us, but until we got today out of the way we didn't have the mandate to speak to anybody. We will continue that process.
"We will have to sit down with Ally and Kenny and have a conversation. The choice of the new manager, we want to take some time and get it right."
King on the team's promotion chances
"A rough figure is that more than 50% [of the upwards of £20m estimated needed for investment, will be spent on the football side].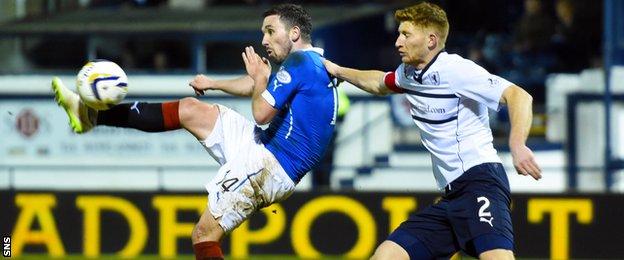 "It's going to be challenging this year, there's a possibility it won't happen this year. We're hoping that with a full resumption of attendance and energy from the fans that it might give the team a bit of a lift.
"Hopefully, they can still get over the line, but if it doesn't happen it doesn't happen."
King on Sports Direct
"I haven't seen the terms of [the loan agreement]. If [a second £5m loan has been] drawn down, I don't think that will be a bad thing. It would be very nice to find there's £5m in the bank.
"For it to happen, it's going to have to happen through engagement with the board, so the fact that it didn't happen prior to 11:00 GMT makes the prospects much less likely.
"[It] would be quite challenging for [Sports Direct] to [nominate two directors as per the conditions of the loan agreement], but it's important that we now look properly at the Sports Direct contracts.
"Issues have been raised about the appropriateness and the quality of some of the negotiations, discussions and implementation of agreements, but until we really look at it, it's very difficult to say.
"I reached out to Mike Ashley a couple of times before at a shareholder level and he's chosen not to engage with me, which is fine, he's entitled to do that.
"As far as Sports Direct is concerned, I'll be encouraging them to come and work with the new board because they are a partner. As I understand it, they want to continue being a partner of the football club and they see Rangers as being quite an important part of the development of their business.
"In that spirit, given that the change has now happened, it would be appropriate for them to constructively engage with the new board, and I'm sure the new board will constructively engage with them."
King on a new nominated advisor being appointed and the AIM listing
"Technically, now that the meeting is over, we can formally engage with the new nomad. That's something the club has to engage with. I had off-the-record discussions with the nomad, that was in the status of representing the board-in-waiting.
"The indication from the nomad is that if I confirm with them today that we're successful, they will start formally engaging on Monday. The process as I understand it can run up to four weeks.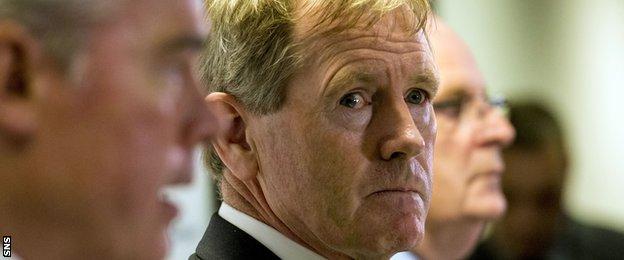 "[Being listed] is completely unimportant. My personal preference - and I haven't discussed it with my colleagues - is that for the rebuilding process [the company] would not be listed. But it is listed.
"There are shareholders who have been supportive of this change, who are institutions who can only invest in public companies. Out of respect for them and their support, it's important that we keep the public listing. From Rangers Football Club's point of view, it's completely unimportant.
"There's a cost advantage [to not being listed]. A lot of the restructuring you can do with the people you want to. If you think Douglas Park should come on the board, you put him on the board, you don't have to go through some chap in London who has to do an investigation.
"You have these complications and from an investment point of view, it would be a very hard sell - even [former Rangers chief executive] Charles Green would struggle to go into the city and convince institutions to invest in Rangers.
"There's a rebuild programme, it requires investment. We're putting our own money in, if it's other people's money, you require dividends, share-price appreciation. We're not doing it for that. Do we think there's a good business case long-term? Absolutely.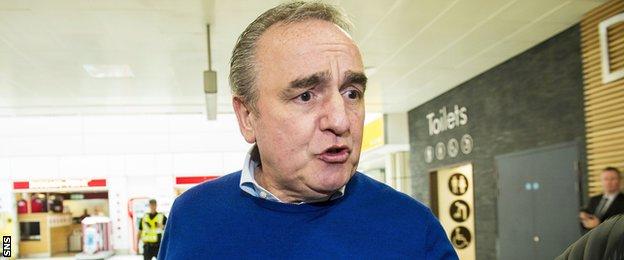 "There's not much room to go down, so there's a lot of upside, but it's going to require patience and the cash flows will need to be re-invested back into the club."
King on Derek Llambias and Barry Leach
[Will they be sacked?] "I wouldn't think so."
[Do they have a future at the club?] "I wouldn't think so."
Murray on Sandy Easdale, chairman of the football board
"We need to sit down with him and speak to him. The result of the shareholders is very clear and our plans will move from there."
King on fit and proper person tests
"This must be the 20th time I've answered that same question [about his conviction for tax offences in South Africa]. Either I am fit and proper or I'm not. I wouldn't have engaged in this process and said I would personally re-invest in the club if I didn't think I would pass the fit and proper person test.
"The only concern I've ever heard has come out from the other side [in the battle for control of the boardroom], who seemed to find the need to flag this as a mechanism to try to deflect attention away from my objective and the resolutions. They had very limited real arguments as to why there shouldn't be a change of control in the board.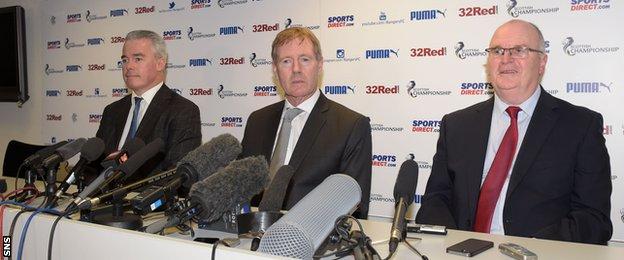 "If there was a concern, then a major city nomad wouldn't even engage. When I phoned them and said I'd like to start talking to them in advance, they would have said 'no' if they thought I was going to be a concern.
"[If the SFA do not agree to his appointment] I would just operate and give input as a shareholder rather than as a non-executive chairman.
"The issue is not about power. We're all trying to achieve the same thing. Maybe part of the problem over the last couple of years has been a confusion between what is right for the company and what is right for individuals.
"We are seeking to move away from that. If for any reason a regulator said, 'Dave, we believe you're not fit and proper', and I had a proper opportunity to make representations and they still conclude that, I would accept that.
"If I'm not found fit and proper then I won't sit on the board. I'll still invest and I'll still support it. I must have 40 companies back in South Africa that I don't sit on the board of. I don't think it will be an issue, but if it turns out to be an issue then it won't make any difference to Rangers going forward."