Rangers: Dave King 'good for Celtic and Scottish football'
Last updated on .From the section Football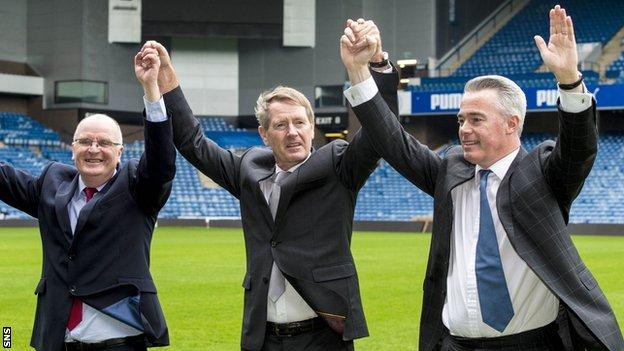 Former Rangers chairman Alastair Johnston thinks Celtic will welcome the Dave King-led takeover at Ibrox as it will be good for Scottish football.
King's consortium has promised substantial investment after winning a shareholder vote to oust the board.
Johnston has had conversations with major Celtic financier Dermot Desmond.
"I think this will help Celtic," Johnston told BBC Scotland. "It gets competition back in there and that's what's good for Scottish football."
Celtic have monopolised the Scottish title while Glasgow rivals Rangers have won two consecutive promotions after financial problems led to them playing in Scotland's bottom tier.
Boardroom problems have continued at Rangers, who presently lie third in the Scottish Championship, with the prospect of missing out on playing in the top flight next season.

"Once the club recovers, which it will do, it is not only great for Rangers Football Club," said Johnston.
"I've talked a lot to Dermot Desmond over the years and, without breaching any discussions, it's not been in Celtic's best interests from a business standpoint and their ability to invest.
"I think that, deep down, Dermot will be very happy today. I am not speaking for him. That's my opinion."
King has delayed becoming chairman, a position Johnston believes "he has long aspired to", because he faces a "fit-and-proper person test" by the Scottish FA as well as Stock Exchange regulators.
However, Johnston does not think King's convictions for contravening South African tax laws should prevent him becoming chairman.
"There's plenty of precedents where people with Dave King's convictions have passed fit-and-proper tests," he said.
Johnston also believes King's involvement on the board as Craig Whyte's regime suffered insolvency would not bar him from the chairmanship.
The former chairman said he personally had "voluminous correspondence" to support King's argument that he was not supportive of Whyte.
Johnston was pleased that King and his allies had "tempered the expectations of the fans".

"I think that's important because it's not going to be a fast turnaround," he said.
"Once the dust is settled and we're back on track, it will be an amazingly heartening story about how this developed from the ashes and shambles of the last three or four years into something that really will make Rangers what it really is.
"It is an institution and a community club. It is going to be a team of the people, by the people for the people."
Craig Houston, of the Sons of Struth supporters group, also backed King's group.
"He had a tax case in South Africa - that's passed and he has paid an amount of money to the tax authorities there and he's more than welcome in South Africa to conduct business and be a shareholder and on the board of directors of companies," he said.
"So I can only use the logic that, if the country where he had the tax issues in are happy for him to continue there, I don't see why Scottish football shouldn't.
"I've had the fortunate experience of meeting him and talking to him personally and I've looked him straight in the face and I'm happy with what he's saying.
"We will always keep an eye on what is happening at our club - it will never happen again that we take the eye off the ball - but with the guys we have in control now, I'm sure we'll have a positive future."