Sexist abuse claims at England v Australia Cyprus Cup match
Last updated on .From the section Women's Football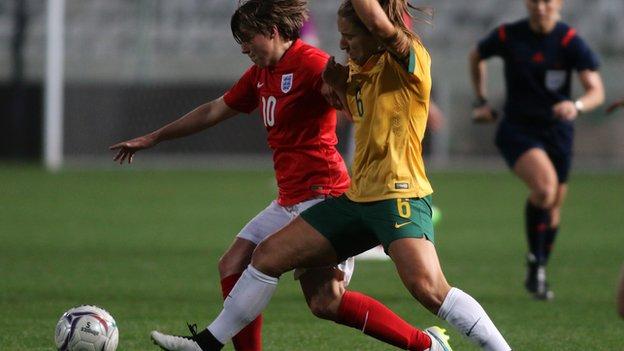 Claims that British soldiers shouted sexist abuse at the Australian women's team during Friday's Cyprus Cup game with England are being investigated.
The Football Association and Ministry of Defence are looking into allegations that a group of soldiers watching England's 3-0 win targeted Australia's 25-year-old defender Servet Uzunlar.
Two female England fans in Cyprus said they were "ashamed" by the behaviour.
Women in Football and the FA have told fans to report sexist chanting.
During the game Jodie Taylor scored a hat-trick to give England a 3-0 group win over Australia and a place in the Cyprus Cup final.
But Rachel O'Sullivan and Sophie Downey, who regularly follow the England women's football team, said 10 soldiers from a group of around 50 "harassed" Uzunlar and the Australian substitutes throughout the match.
They said they reported the abuse to the commander in charge at the end of the game who apologised, but claimed he hadn't heard any comments.
"We've been to lots of games before and we can engage in banter, but this wasn't banter - it was constant, gender-specific abuse," said Downey.
"We weren't sure whether to tweet about it because it's the Army and we didn't want to offend people - I'm a very proud English person and I'm very proud of what the Army do - but I was ashamed of them today."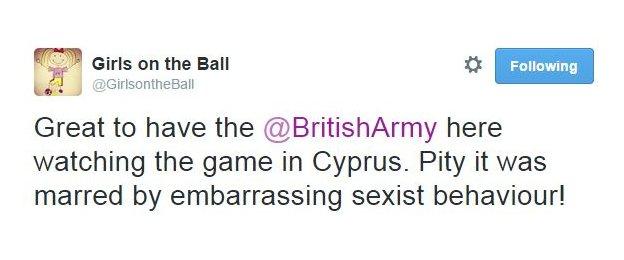 O'Sullivan added: "One Australian player, number six [Uzunlar], they were harassing her over and over and over again, throughout the game.
"They were making horrible comments, shouting at her, whistling - it was uncomfortable to hear. These are teenage girls and they were sexually objectifying them."
One Australian fan, who asked to remain anonymous, added: "This was a stunning one-off that I've never heard before in women's football. I said the to Army sergeant 'this isn't a complaint as an Australian supporter, it's a complaint as a woman'.
"It was beyond the pale. He was apologetic after the game and offered to apologise to the players."
Australia manager Alen Stajcic told BBC Sport: "Things that happen in the crowd are out of our control, but if there were some inappropriate remarks I think that's something the British Army needs to look at.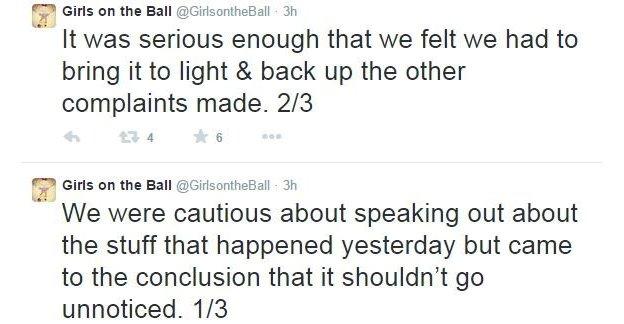 "I didn't hear much. I heard some off the cuff remarks, but I was focused on how our team was performing on the pitch. We haven't made an issue of it within our team, it had minimal impact on the group."
The British soldiers are based near Nicosia and also attended last year's tournament without incident.
An MoD spokeswoman said: "Behaviour of the kind described is totally unacceptable and is not tolerated in the armed forces where abuse, bullying and discrimination have no place.
"We are investigating these claims and if it is found that any UK personnel have fallen below the high standards we expect then appropriate action will be taken."
The FA said it would also investigate the claims but that none of the England squad or management had heard any comments during the game and that they "appreciated the British Army's support".
Stewards and safety officers are being briefed on how to spot - and tackle - sexist abuse in football stadiums in the UK after and equality group Women in Football, which represents more than 1,200 females, contacted all 92 Premier and Football League clubs about the issue.
The FA is calling on fans to report sexist abuse at games after being shown disturbing scenes by the BBC of women officials and staff being subjected to obscene chants.
How to report sexist chanting:
The FA: 0800 085 0508 or footballforall@thefa.com
Kick it Out: 0800 169 9414 info@kickitout.org or via the Kick It Out app
Women in Football: info@womeninfootball.co.uk