Rangers: Potential managers in touch with new regime at Ibrox
Last updated on .From the section Rangers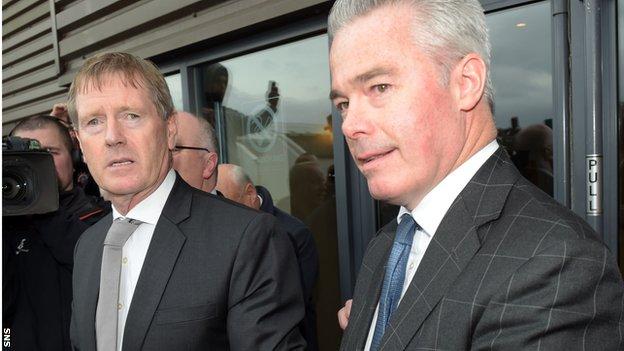 Paul Murray has revealed the new regime at Rangers have been contacted by managers hoping to take over at the Ibrox club.
"There are lots of candidates coming towards us and offering their services," Murray told BBC Scotland.
"We've got some ideas of our own and we're talking to people within the game that we respect."
Kenny McDowall is in interim charge of Rangers following the resignation of manager Ally McCoist, who is on gardening leave until the end of the season.
McDowall has also handed in his notice, but Murray insists the new board will not rush the decision to appoint a new boss.
"Ally McCoist and Kenny McDowall are employees of the club, we have to sit down with them when the dust settles and find out what they want to do," added Murray.
"We'll sit down with Kenny, he's been working under incredibly difficult circumstances, and we'll have that conversation next week.

"There are only 13 men who have held the position as manager of Rangers in 143 years, so that tells you it's a really important position and we have to take our time and find the right person."
Following Saturday's 0-0 draw with Cowdenbeath, McDowall endorsed the new board, saying: "The club can heal now and move forward.
"I've not really discussed my future. The club's the most important thing. I'm sure I'll speak to the new board in due course."
While Murray put finding a new manager as one of the top priorities for the new regime, he is also keen to see the club make strides off the field as well.
"First of all, I'm obviously biased, but I believe Rangers are the biggest club in Scotland and I think what comes with that is a responsibility to lead Scottish football," he said.
"I'm 50 years of age now and in my lifetime, and before that, Rangers very much led Scottish football in terms of the governance and the strategy, obviously along with Celtic and other clubs, and in the last 15-20 years that's been gradually declining and we need to get back to that way of thinking.
"A lot of people have got strong views on what happened to Rangers and that's fine, and I've got strong views as well, but we need to move forward now and grasp the situation and lead Scottish football.
"In terms of practical things it's rejoining some of the committees that determine what's happening in the game, participating in discussions about the strategy of the game, these are things we've got to be involved in as we are the biggest club in Scotland in my view."
Paul Murray on Rangers' commercial deal with shareholder Mike Ashley's Sport Direct company
"We need to sit down with Mike Ashley, or Sports Direct, he's got rights to have board seats, he's got commercial arrangements and he's also a 9% shareholder so we need to sit down with him or his people to find out what he wants to achieve from the whole process. It's fairly obvious that if Rangers are successful, Sports Direct will benefit from that so you'd like to think he will see that that's a benefit. Mike Ashley's a very successful retailer, he's one of the best in the UK, so we need to sit down with him and understand what's in the contracts and then decide if that's in the best interests of the club. If it's not in the best interests of the club, we will change it. I've not seen the contracts."
Murray revealed he is "delighted" that businessman Douglas Park will also be joining the board, and that £20m will be invested to refresh things on and off the field at Ibrox.
He expects the rebuilding of the club to take time but expressed his joy at finally being in a position to make changes.
"It was a long time coming, it's been a long road with a few twists and turns, but great to get to the end of it," he added.
"It's a combination of relief first and foremost, obviously joy at the result [of EGM], and exhaustion.
"I've always said that even if I wasn't involved, all I wanted to see was the club back in safe hands, and I just haven't felt, since the club was sold to Craig Whyte four years ago, that it has been.
"When I look back at the behaviour, the money that's been spent, even just walking through Ibrox yesterday and seeing the fabric of the buildings, the morale of the staff, you can see it first hand what's happened in the last four years.
"I think that's wrong and, as a Rangers supporter first and foremost, I want to do my best to try to stop that."