Zambia optimistic heading into African U-20 championship
By Kennedy Gondwe
BBC Sport, Lusaka
Last updated on .From the section Football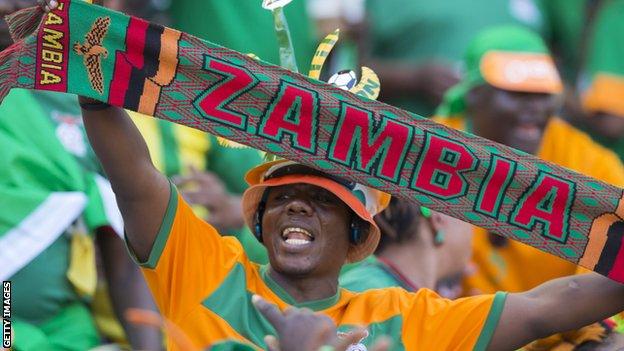 When Zambia were crowned African champions three years ago, great football things were expected for this southern African country.
But that was not to be. The Chipolopolo failed to defend their crown after suffering a first round elimination in the next tournament and the story was the same two years later.
Yet there is cause for optimism because while there seems to be a drop in fortunes at senior national team level, the story is different with junior teams.
The Under-17 side for the first time in the country's history qualified for the African Championship while the under-20 team has also made it to their version of the Africa Cup.
In fact, the Zambia Under-20s team kick of their African Championship campaign in Senegal on Monday against Mali.
Football Association of Zambia (Faz) president Kalusha Bwalya is a happy man to be associated with both ends of this history.
But first, how does one explain the senior Chipolopolo's first-round elimination from the last two Africa Cups?
"Without sounding modest, we did not have the high-profile players that some of the other teams have been able to enjoy," he explains to BBC Sport.
"If you look at Cameroon, they have had [Samuel] Eto'o, Ghana have [Michael] Essien and the Ayew brothers. Cote d'Ivoire have a galaxy of players."
Giving an example of Ivory Coast, Bwalya notes that despite the vast talent they have had, it took them 23 years to win their next Africa Cup.
He says great footballing countries like Ghana and Egypt have also not won the Africa Cup in a long time.
"We were able to go to the African Cup of Nations and surprise with more local-based players; maybe we were more of a team," Bwalya said.
"For me, defending the Africa Cup in 2013 was going to be very difficult because it was only a year later and we were still celebrating.
"We were still in the air and thinking that we were going to heaven and before we realised it, we were required to defend the cup.
"In 2015, there was a renewal of talent. New and young players have come in and some of the older guys that won the cup in 2012 were left behind.
"Now there is a new start with younger players and we are guaranteed that for the next 10 years we'll have a new crop of footballers that will represent Zambia to the best of their ability."
Bwalya says his association has now realised the future of Zambian football lies in youngsters and the youth policy embarked upon years ago is now paying dividends.
"There's been more work under the radar. This is a programme that started over for years ago under our former coach Herve Renard. When we started going around the different districts of our country, many people didn't believe in us.
"Everybody knows that Zambia is rich in talent but visiting every province and all the major districts in search of talent had never been done before.
"It was a deliberate policy and small as it is, it has yielded great results and to the great satisfaction of the Football Association of Zambia."
Bwalya says Faz embarked on the youth policy after realising that most of the players that won the Africa Cup in 2012 would not be playing competitively for too long.
He said footballers had a life-span and after playing competitively for a long time, players were bound to retire.
Bwalya said most of the players that won the Africa Cup made their debuts in 2003 and by 2013, there needed to be a renewal of fresh talent.
Luck may not have been with the under-17 when they qualified for the African Championship and suffered an early exit.
The country's hopes now rest on the Under-20 side whose top four finish at the African Championship will earn them a World Cup qualification and perhaps mark a truly new beginning for the Chipolopolo.