Roberto Martinez: Everton in survival fight, says manager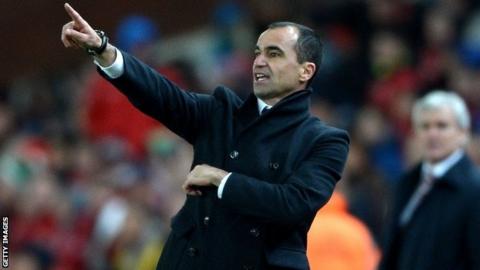 Everton manager Roberto Martinez has accepted that the club are in a relegation battle.
Martinez's side are six points above the relegation zone after winning one of their last 12 Premier League games.
Everton have 28 points from 28 games, their lowest total at this stage of a season in the Premier League era.
"Any team that hasn't got 40 points in the final third of the season is in a relegation fight," Martinez told the Sunday Telegraph.
"The big advantage I have is that I've been through that every season."
Martinez won successive relegation battles as manager with Wigan Athletic in 2010, 2011 and 2012 before they went down in 2013, days after winning the FA Cup.
"Yes, yes, but I've been down with 36 points and it's very tough to get 36 points in this league," Martinez said.
"It was very painful because it was on the back of winning the FA Cup. The FA Cup final got in the middle of achieving that and we paid the price."
Martinez has rejected criticism that his side's possession-heavy style of play is too slow to break down opposing teams.
Asked if his team were guilty of over-passing, he said: "Never. I don't think you can. You can never over-pass. Passing for the sake of it is not going to take you anywhere. There's a reason behind every pass."