FA Cup: Liverpool's Martin Skrtel 'fine' despite heavy neck fall
Last updated on .From the section Football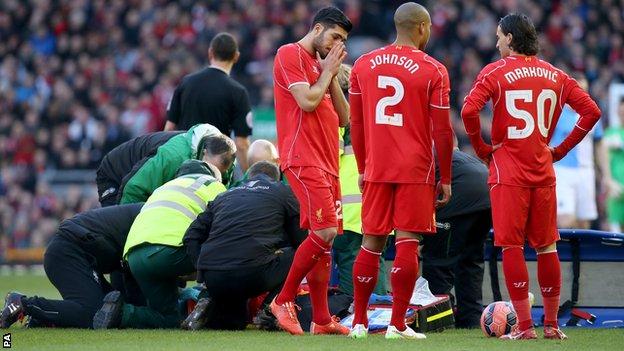 Martin Skrtel should be fit for Liverpool's Premier League match at Swansea on 16 March despite fears he had lost consciousness in Sunday's FA Cup quarter-final draw with Blackburn.
Skrtel, 30, landed heavily on his neck after contesting a third-minute header.
Following an eight-minute delay, the defender was taken off wearing a neck brace. "He could have been knocked out," boss Brendan Rodgers said.
"He was fine, shouting he wanted to play on when he was on the stretcher."
After lengthy treatment, Skrtel, who challenged Rovers striker Rudy Gestede for the ball in the third-minute incident, put his thumbs up as he was carried from the field before being taken to hospital after the goalless draw.
"I think he'll be able to play in the next game," Rodgers told BBC Radio 5 live.
"He could have played on but you have to listen to the medical team and the experts and he had to come off.
"He was fine, up walking and talking after the game but as a precaution we need to make sure he is okay."
New concussion measures this season
A player suffering a head injury must leave the pitch.
Team managers or coaching staff will no longer decide if a player continues to play. The final decision will be with the club doctor.
Home teams in the Premier League must now have a third "tunnel" doctor on match days to support doctors for both sides.
The "tunnel" doctor will help to spot potential concussions and watch TV replays to judge the severity of incidents.
All Premier League players will undergo baseline neurological assessments as part of their annual medical check-up to help doctors measure their recovery time if they suffer a concussion.
Under Premier League rules introduced this season, players must leave the pitch after suffering a head injury.
Last season, Tottenham were criticised for letting keeper Hugo Lloris continue playing after he lost consciousness in a goalless draw against Everton.
Earlier this campaign, Chelsea also attracted criticism for allowing goalkeeper Thibaut Courtois to play on for 14 minutes after a head injury before going to hospital for checks.
"In terms of all the improvements in football this is one of the best. With injuries they take absolutely no chance at all," former Liverpool defender Mark Lawrenson told the BBC.