Dundee Utd 1-1 Celtic: Sympathy for Paton from McNamara
Last updated on .From the section Football
Manager Jackie McNamara expressed sympathy for Dundee United's Paul Paton after he appeared to be sent off for no reason in the incident-packed
Referee Craig Thomson flashed a red card at the United midfielder when in fact it was Calum Butcher who had tussled with Celtic's Virgil van Dijk.
McNamara said: "I feel sorry for Pates.
"He got suspended earlier in the season for something he didn't do. He must think everything is against him."
Butcher, who had reacted angrily to a bad challenge by Celtic's Dutch defender, escaped without punishment from the referee, but Van Dijk was sent off, though it is not clear if that was for his initial challenge on Butcher or for his reaction to Butcher's retaliation.
There could arguably have been further red cards shown, for that incident happened a second after Celtic captain Scott Brown had crudely challenged United striker Nadir Ciftci, who appeared to kick out at Brown while lying on the ground.
"What was strange to me was that the initial challenge didn't get dealt with by the referee," McNamara told BBC Radio Scotland.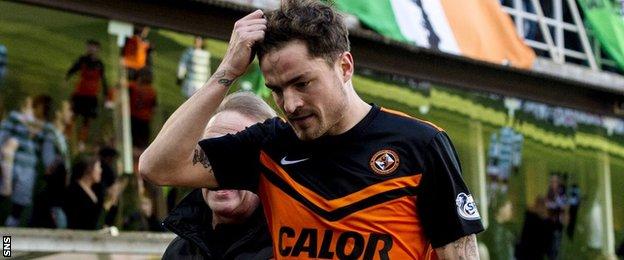 "Once it broke out I saw Calum win the ball and us breaking forward. I didn't see what happened with the melee but the initial challenge on Nadir was a bad one."
McNamara plans to lodge an appeal against Paton's dismissal, saying: "Common sense will show that Paton wasn't even involved."
United's goal came from a controversial decision to award Aidan Connolly a penalty when he crashed to the turf in the Celtic box. The contentious point is whether there was any, or sufficient, contact with Anthony Stokes to make him fall.
Asked if he felt his player had dived, the United boss replied: "I don't think he did. I think Stokes's thigh's on him as he went past. I think he put it through (Nir) Bitton's legs and went to get it. I think his (Stokes's) thigh put Aidan down rather than his foot."
Ciftci's cool finish with the spot kick gave United a 1-0 lead but they lost another player when defender Paul Dixon blocked Celtic midfielder James Forrest's goalbound shot with a raised arm.
"They're saying it's maybe caught him on the elbow," said McNamara.
"The referee has made a decision, we need to accept it. It's disappointing because I felt with 10 v 10 there was a real opportunity to win the match.
"I'm proud of how the players responded going down to nine men. The fans, as well, played their part."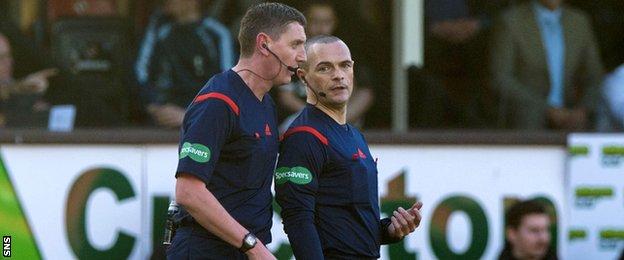 "We'll need to dust ourselves down and get ready for the cup final."
That League Cup decider is against Celtic next Sunday and the teams are due to meet again in the Scottish Cup replay on Wednesday 18 March before a Premiership pairing at Celtic Park on Saturday 21 March.
Celtic manager Ronny Deila was unhappy at the state of the United playing surface, saying it was "not good for the league or the cup", but was dismayed at Thomson's decision to award Connolly a penalty.
He is calling on the Scottish Football Association to look at a retrospective punishment for the player, as happened with Celtic's Derk Boerrigter for simulating a dive against St Johnstone in August.
"The penalty was a dive, in my opinion," said the Norwegian.
"We had Derk sent off because of diving earlier in the season. I said that's no problem if you take in every incident that happens, but I haven't seen one more suspension for diving.
"So hopefully it is for both teams."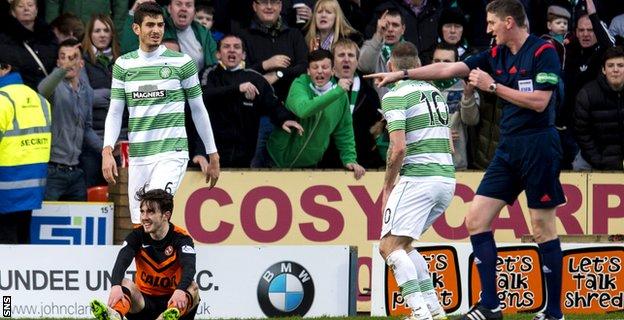 Admitting "it was a tough game to be a ref", Deila felt Thomson made the correct call to award his team a penalty and send off Dixon for handball, though Leigh Griffiths had his resultant spot kick saved by man of the match Radoslaw Cierzniak.
Deila, who said he had not seen a replay of Van Dijk's red card incident, continued: "We should have won. The first half was very even.
"It was a very tough game. Dundee United are a good team. We had the chances to win but sometimes you are not effective enough.
"We have to be happy that we are still in it. There are going to be some exciting games coming up."