Rangers: Douglas Park promises Ibrox cash probe
Last updated on .From the section Rangers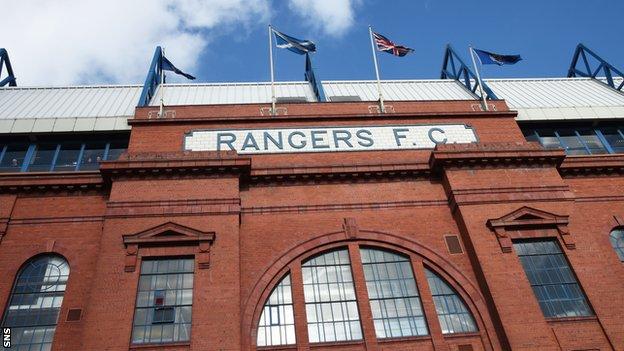 New Rangers director Douglas Park has promised an investigation to uncover why the Glasgow club spent more than £70m in the past four years.
"There has been an absence of corporate governance and time will be required to study the various contracts and deals which have been put in place," he said.
Criminal proceedings were taken against former owner Craig Whyte.
Whyte had taken control after handing former owner and fellow Scottish businessman Sir David Murray a token £1 fee in May 2011.
Following insolvency, Rangers have been owned by a consortium led by Charles Green and most recently led by business associates of shareholder Mike Ashley, the Sports Direct and Newcastle United owner.
"If further shocks are lurking among the paper and electronic trails then so be it," said Park. "They will have to be faced and dealt with appropriately.
"This club has been badly neglected and it has been used for the benefit of individuals.
"A new board is being put in place and it is our intention to begin immediately the process of repairing the considerable damage caused to this great club by people who should never have been allowed anywhere near Rangers."

However, Park insisted that Rangers, presently struggling to keep pace with Scottish Championship leaders Hearts after two successive promotions, could now look forward with confidence.
"It has been a long and difficult road, but finally those of us who have campaigned for and supported regime change at Ibrox have succeeded," he said.
"It has been a struggle, but some things are worth fighting for and, now that Rangers are rid of the last of the previous board, we have every right to look forward with hope instead of wondering each day what other outrageous or destructive decisions might be taken.
"The abuse of this club is at an end. Now it is about the future and I believe we can all lift our heads and look forward with optimism.
"However, there can be no outlandish promises or unrealistic timescales, only a firm commitment to do what is best for Rangers at all times."
Park promised more openness about the club's affairs and urged the club to drop its victim mentality.
"Our intentions will be revealed in the weeks ahead," he added. "Nothing will be hidden from sight.
"The days of secrecy are over and, for the moment, questions about our plan for Rangers can be answered in one word: victory. Victory however long and hard the road may be.
"We have forced change, we have altered the club's course and we have given Rangers a real opportunity to flourish and grow strong again.
"So we should now discard this notion that we are victims because the truth is we have not been defeated."