When Fans Invade The Pitch: A Player's View
By Matt Bloomfield
Wycombe Wanderers midfielder
Last updated on .From the section Football
I have an admission to make. When Ipswich beat Bolton to reach the First Division play-off final in 2000 there was a pitch invasion at the end of the game. And I was one of those supporters on the pitch that night.
I was at the game with my brother who was only nine at the time, and he wanted to know what it was like to be out there on the Portman Road pitch. So I took him.
I was in the Ipswich Under-16 squad at the time and was due to start full-time that summer, once I had finished my exams. When I went into training on the Thursday evening I was asked whether I had been on the pitch 48 hours previously. Me? Of course I hadn't!
Villa Park
There has been a lot made of Saturday's pitch invasion in the game between Aston Villa and West Brom at Villa Park and the possible sanctions that might come about as a result.
Some Villa supporters ran on to the pitch in injury time and at full-time, while seats were thrown from the stand housing West Brom fans, leading the Football Association to contact both clubs regarding the incident.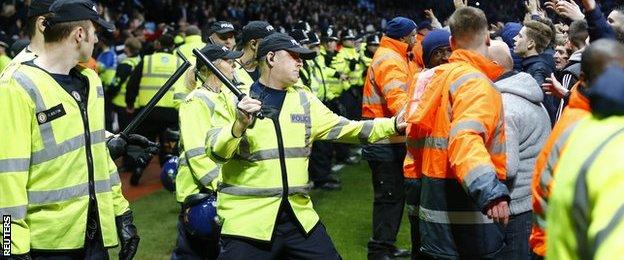 BBC pundit Mark Lawrenson described it as "a throwback to the 1980s" and I agree it was a potentially dangerous situation that should have been dealt with better by all involved.
But on the flip side there are many examples over the years of players being carried back to the changing rooms on supporters' shoulders, and they have been described as fantastic scenes that will go down in history at that club.
Sheffield Wednesday away
The one experience that stands out to me as a player of being involved in scenes like this was for Wycombe at Hillsborough in May 2012, when Sheffield Wednesday were promoted back into the Championship.
We were already relegated when we went to Sheffield for the last game of the season and the atmosphere was absolutely electric from the moment we got to the ground.
Wednesday beat us 2-0 to secure their automatic promotion place and in injury time I remember the referee telling the players to get ready because he was about to blow the whistle for full-time. As soon as he did I just ran for the tunnel and the jubilant supporters invaded the pitch to carry on their celebrations.
There was never a hint of anything untoward ever happening. They had no interest in us when they could share the moment with their heroes, but I wasn't hanging around to find out!
How do the families feel?
If I'm ever watching the football at home and there is a pitch invasion my wife always says to me that she would hate for that to happen at a Wycombe game with me on the pitch. I can understand her perspective and it must have been horrible for the players' families to be watching on Saturday.
Villa's Fabian Delph said that he was bitten during Saturday's incident but seemed to laugh it off during his interview on Match Of The Day.
Players' safety is paramount, but when are these scenes something to savour and when are they a "throwback to the 1980s"?
I feel there is a time and a place for celebrations of that nature in the euphoria of a significant success, but I can't help but worry that it won't be long before an invasion leads to a serious injury and by then, any action will be too late.