'Celtic players have dived this season', says Ryan McGowan
Last updated on .From the section Football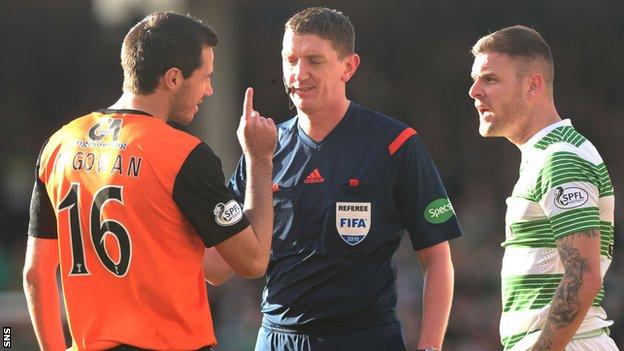 Dundee United defender Ryan McGowan has hit back at Celtic after manager Ronny Deila and captain Scott Brown both accused Aidan Connelly of diving.
Connolly hit the deck under a challenge from Anthony Stokes to earn a penalty in Sunday's 1-1 Scottish Cup draw.
"It's a bit rich from those players," said McGowan.
"Celtic have been on a lot of soft decisions and won penalties and they've not complained about it too much, so sometimes it's swings and roundabouts."
Both clubs will appeal against the red cards shown to United's Paul Paton and Celtic defender Virgil van Dijk during what was a heated game.
The Scottish FA compliance officer could also decide to take further action against other players.
Speaking to BBC Scotland's Sportsound, McGowan said: "Scott Brown saying, if he was captain and one of his players dived, he would have words with them, but this year alone Celtic players have dived to win penalties and not too much has been said about it.
"I think everybody that you spoke to yesterday and today really enjoyed the game.
"I think it was a good Scottish Cup tie, it had a lot of talking points.
"I sometimes think the whole thing afterwards - a little bit old school maybe - the whole 'he should be done for this or he should be done for that' and this whole compliance officer thing, I think that gets overdone a little bit.
"To try and bring people in, pick things up that happened and get them banned, I'm not too sure if I agree with all that stuff.
"I was there. I thought Stokes from my angle from behind put his knee out, but seeing replays, it looks like there is minimal contact, but, if you do stick your leg out, you do run that risk.
"You're going to need to ask Aidan if he did dive or not. Sometimes you get them decisions and sometimes you don't."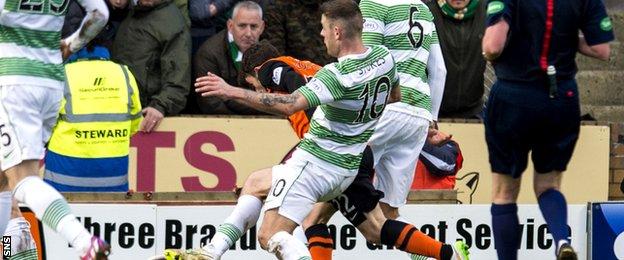 The sides meet again in Sunday's League Cup final at Hampden, but McGowan echoed the comments from captain Sean Dillon that there will be no spill over from the Tannadice clash.
"It's a man's game, it's a Scottish Cup tie," he said. "There's 11 players on that field who want to win those games, there's going to be bad decisions, there's going to be big tackles, there's going to be talking points.
"I think it was a little bit reckless [Scott Brown tackle], but it's the type of thing managers talk about; in the first 10 minutes put down markers, make sure that you're up for it.
"If that decision happens and you book both players, everyone would have been 'right fine, play on.' Even afterwards, no-one was screaming or shouting saying this or that. It's just two players going for the ball, two competitors, two winners.
"Football's losing sometimes what everybody loves about it."