Spain-based Scot Ian Cathro continuing to attract admirers

By Richard Wilson
BBC Scotland
Last updated on .From the section Football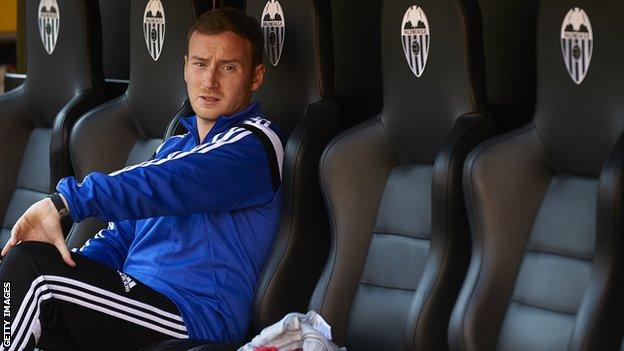 Ian Cathro has not followed a conventional career path, but he has still encountered lingering assumptions.
During his first pre-season as assistant coach at Rio Ave in Portugal, a training session based on running rather than ball work prompted some players to cast withering glances his way.
As a Scotsman, even one whose very presence in the Portuguese top-flight at an age when he was younger than many of the players in the squad was unorthodox, still prompted stereotypical thinking.
"I wasn't responsible," he laughs. "It was the Portuguese fitness coach, but that was a little indication of what others think of us."
Cathro has been working against the grain. His story has been recounted often enough: setting up a coaching school while he was still in his teens; an injury-curtailed career in youth football; a skills and vision-based approach that developed players of such obvious ability that the Dundee United manager, Craig Levein, took Cathro as well as some of the players to Tannadice.
Following that, a spell working for the Scottish FA's regional coaching set-up, then Nuno Espirito Santo appointing him as his assistant at Rio Ave having met Cathro while both were working on their coaching qualifications under the SFA.
The interest around Cathro now is where the next stage of his career takes him. He is only 28 but has a growing reputation as a coach.

He concedes that there has been contact from clubs in recent times but will only reiterate that there has been none from Rangers, to whom he has been most closely linked in Scotland.
Cathro certainly meets the criteria laid out by Dave King, who led the new boardroom regime into power at Ibrox, that the next appointment should be more of a coach than a manager, somebody who is able to work on player development and creating a style and identity for the team, almost entirely from scratch.
"You project forward to the types of job you want to do," Cathro said. "I want to fill a stadium and make people excited about coming, feeling that as an enjoyable thing to watch and embrace, whilst being able to do something of significance at a club that leaves a structure and a system so that it continues to profit from beyond my period of time.
"That's the types of jobs that are more appealing and more natural to me. You're paid a lot of money, football gives you a lot of good things, and it's the club's position in society that gives you that. It's important that the club gets its value from you.
"In a lot of aspects, I feel entirely ready. The exact moment and when I make that step will be more about the details of the opportunity, the conditions and circumstances that you would be working with."
Cathro would make some demands of potential employers. Despite now being comfortable expressing himself in Portuguese, and making progress towards learning Spanish, he wants his first management job to be in an English-speaking country and he wants a full pre-season to start with.

He recognises his own intensity and driven, almost blinkered, commitment to his work. "When family and friends come across, you're obliged to at least find a restaurant to go to," he said.
Mostly, though, Cathro is wholly engaged in his work at Valencia and has spoken about his time in La Liga effectively being the Masters degree of his coaching education.
Valencia have impressed enough for Santo to have been linked with the Barcelona job should Luis Enrique's reign come to an end in the summer. Valencia have defeated Atletico Madrid and Real Madrid this season and are fourth, five points clear of Sevilla, with Champions League qualification the goal.
The club is now owned by Peter Lim, the Singapore billionaire, and Santo was brought in to oversee the rebuilding of the team. He and Cathro are effectively in the midst of a two-tier process, balancing short and medium-term aims.
"I know that 'project' is an overly used term, but this genuinely is and the first step has to be to achieve your objectives," Cathro said. "If we don't, the project dies.
"We're trying to do two things: project ahead, planning a squad and parts of our playing identity, which will go on to be the foundation of the next steps in the project, whilst needing to be responsive and adapting, sometimes week by week to the opponent, to ensure that we meet our first objective.
"You need to grow all aspects of your club and be a lot more careful and skilled, not only in the recruitment of players but when you do that.
"You can't do it all at once and you need to be looking two or three transfer windows ahead of yourself, as well as the development of the younger players at the club, and the eventual playing identity whilst going to Cordoba away and making sure that you win."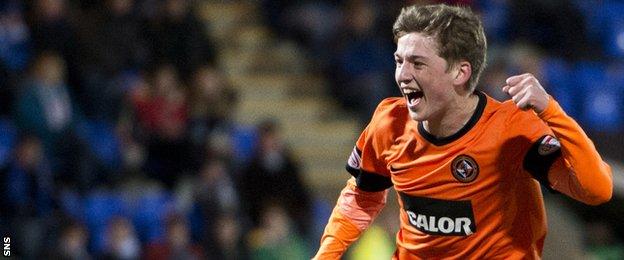 Cathro has prompted curiosity throughout his career. His approach to training young players in Scotland stood apart from the tried and tested ways.
His youthfulness and lack of a playing career also meant that the normal career path wasn't open to him. He has made a virtue out of his background and commitment to certain values, although he recognises the benefits that time in the professional game would have brought to his coaching knowledge.
He also acknowledges that the tactical styles he has encountered in Portugal and Spain would not directly transfer to British football. Every aspect of his current job is about preparing and developing for his next step, though.
"If someone was to say to me, 'if I could magically give you a five-year career as a footballer', in terms of preparing a management career, then yes, all the time," he said.
"There are things that the players feel and sense and recognise in the middle of competition on the pitch, when you're isolated, that are valuable and that analysts and people who haven't lived those situations find difficult to add to themselves.
"What's different now is that I haven't lived through those things on the pitch, but I've lived beside people who have and had a close working relationship around all of these situations in two different leagues.
"Those experiences go a long way to filling in some of the blanks. It provides a self-assurance which is comforting - that you've already lived through those things."