Roy Keane: Louis van Gaal needs 'three years' to succeed
Last updated on .From the section Man Utd
Former Manchester United captain Roy Keane says it will be a "disaster" if the club fail to finish in the top four but believes Louis van Gaal needs "two or three years" to rebuild the squad.
United's last realistic chance of silverware vanished as they lost 2-1 to Arsenal in the FA Cup quarter-finals.
"Van Gaal is going to get criticised, you'd expect that," Keane said during his BBC Match of the Day analysis.
"Give the man a chance - two or three years."
United are fourth in the Premier League but their 10-game run-in includes matches against Liverpool (away), Manchester City (home), Chelsea (away) and Arsenal (home).
They trailed to Nacho Monreal's goal on Monday before Wayne Rooney levelled. Former United striker Danny Welbeck hit the winner before the hosts finished with 10 men after Angel Di Maria was sent off.
The Argentine was first booked for diving, then tugged at referee Michael Oliver's shirt as he walked away, with inevitable consequences.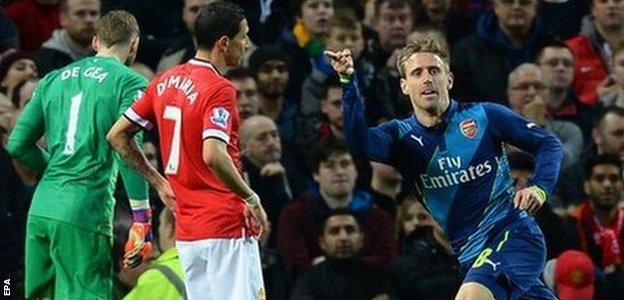 'It takes time - it's a rebuilding job'
Keane, who won seven Premier League titles, four FA Cups and the Champions League during a 12-year career at Manchester United from 1993 to 2005, said: "A lot of fans don't quite understand how to run a football club as big as Manchester United.
"They should have given David Moyes more time but didn't. What are they going to do? Chop and change again? Van Gaal has been in the door two minutes. It takes time. It's literally a rebuilding job.
"It would be a disaster [if United don't finish in top four]. The big problem with people at the club and ex-players is they keep looking back comparing teams from 10 years ago. They have got to look forward. Focus on the players, focus on the manager... get right behind him. I still think they have enough to get in that top four."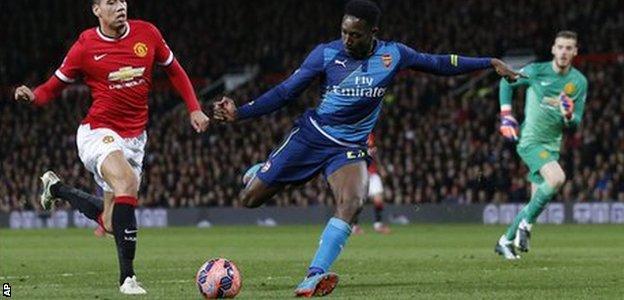 'Catastrophe if United don't finish in the top four'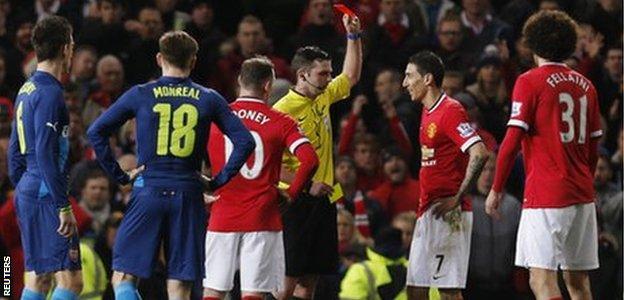 Former England striker Alan Shearer: "Manchester United's main priority this season is finishing in the top four. If they don't then it will be a catastrophe.
"They have spent a lot of money on players. There's a hell of a lot more money that needs to be spent to get them anywhere near where they want to be. There isn't another team in the Premier League that passes it back more than Manchester United."
'Massive last two months of season'
Phil Neville, who won the Premier League six times with Manchester United: "Momentum works both ways and now United can't win silverware, all they've got left to concentrate on for the rest of the season is a top-four finish.
"There's a tricky period for them when they still have to play Chelsea, Manchester City and Everton.
"It's a massive, massive last two months of the season for them. The results have been OK, but the performances have got to improve. Manchester United lost the tie in midfield. The half-time substitution of Ander Herrera I thought was a poor call."
'United lacked ideas'
Former Arsenal and England striker Ian Wright: "Arsenal didn't have to do too much to win this tie. Manchester United didn't have too many ideas. It was a lot easier for Arsenal than they thought."