Louis van Gaal: No excuses for Di Maria sending off
Last updated on .From the section Man Utd
Angel Di Maria can have "no excuses" for his FA Cup quarter-final sending off against Arsenal, his Manchester United manager Louis van Gaal said.
He was booked for diving and then grabbed the shirt of referee Michael Oliver - earning himself a red card.
"I think he's touched the referee and that's forbidden in every country, so he has no excuses," Van Gaal said.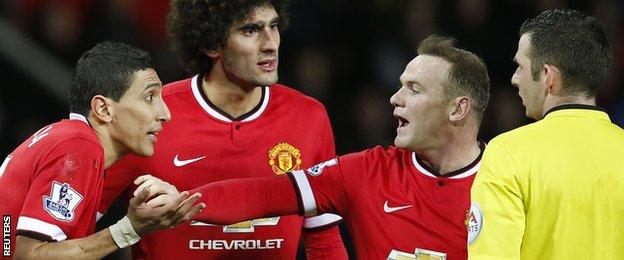 "In Spain, he knows that he doesn't touch the referee, but that is also in his emotion.
"I've already spoken with him, he knows my opinion but also I have to see on the video."
Former Manchester United striker Danny Welbeck returned to Old Trafford to score the second-half winner for Arsenal.
Earlier, Nacho Monreal's opening goal for the Gunners was cancelled out by Wayne Rooney's header.
Van Gaal on United's FA Cup exit
"I've said in the dressing room we gave [the game] away by ourselves and that is the biggest disappointment. In the second half, we had the first chance also then we gave it away again.
"We don't lose from the opponent, we lost from ourselves and it was very disappointing. You play this match to win; to beat the opponent. We wanted to be in the semi-final."
Oliver under the spotlight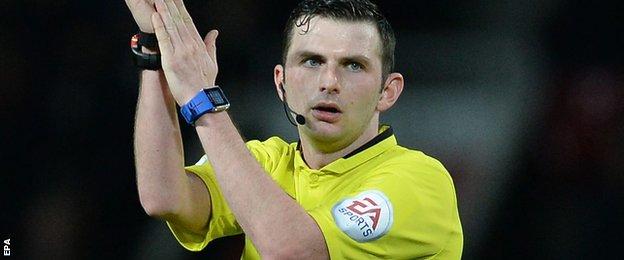 Referee Oliver's performance also came in for close scrutiny. As well as the Di Maria incidents, Arsenal right-back Hector Bellerin escaped a second yellow card for a foul on Ashley Young and Adnan Januzaj's appeals for a late penalty were turned down and the Belgium winger was booked for diving.
Incident one - Bellerin escapes second yellow
Bellerin received a booking for a foul on Ashley Young in just the third minute. Just after the hour mark, the pair tangled again and Young went down under the challenge.
The Arsenal player avoided seeing yellow again and stayed on.
Louis van Gaal: "He hasn't received a second yellow card. The referee is the boss of that, he decides."
Bellerin was replaced shortly after and replaced by Calum Chambers.
Incident two - Di Maria dives
With United trailing 2-1 and 15 minutes remaining, Angel Di Maria throws himself to the floor and is booked for a tame dive.
Incident three - Di Maria sees red
The Argentine's yellow quickly becomes a red as, amid confusion around Old Trafford, the club's £59.7m record signing grabbed the shirt of Michael Oliver.
Chief football writer Phil McNulty: "Di Maria was utterly senseless to tug at his shirt to see a second yellow."
John Murray, BBC Radio 5 live commentator: "Angel Di Maria walks off the field and they're applauding him.
"But for goodness sake, two yellow cards for that behaviour, he's cost his side a place in the semi-finals. He grabbed the referee's shirt and you simply cannot do that."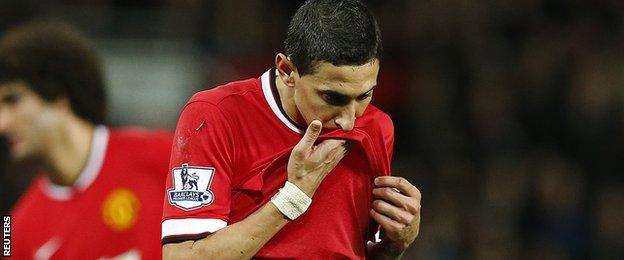 Incident four - Januzaj booked for diving
Five minutes were left on the Old Trafford clock as United attacked the Stretford End in search of an equaliser.
Adnan Januzaj attempted to get past Nacho Monreal and fell to the floor by the byeline with the home fans appealing for a penalty.
Oliver waved away the appeals and awarded an Arsenal free-kick, booking the Belgian for simulation.
Phil Neville on BBC Radio 5 live: "Januzaj showed brilliant ability on that right-hand side to go past Monreal, but it's a brilliant decision - there was no need to go over. There was no contact at all and Januzaj goes down too easily."
Danny Murphy on Match of the Day: "That was the right decision and a brave decision by the referee right in front of the Stretford End."