Ex-Chelsea striker Samuel Eto'o urges stricter racism punishments
Last updated on .From the section European Football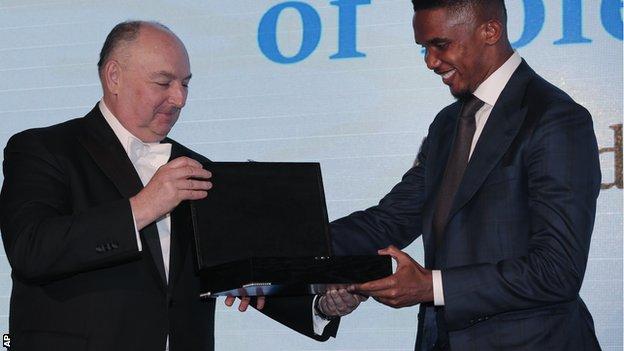 Ex-Chelsea striker Samuel Eto'o wants stricter punishments to combat racism.
The 34-year-old Cameroonian, now at Sampdoria, said footage of Chelsea fans stopping a black man boarding a Paris metro train last month had shocked him.
"We are here to fight against these issues and try to have harsher laws that are applied in a very tough way to fight against this abuse," he said.
He was speaking at London's Kensington Palace, where he was receiving an award for his anti-racism work.
Eto'o was presented with the European Medal of Tolerance by European Council on Tolerance and Reconciliation president Dr Moshe Kantor.
Chelsea have suspended five supporters following the incident in Paris but Eto'o, who spent the 2013-14 season at Stamford Bridge, said: "These five or 10 fans are not representative of all the other fans."
The striker experienced racism in Spain in 2006 when he was a Barcelona player, threatening to walk off the pitch after Real Zaragoza supporters made monkey noises whenever he had the ball.
In Italy when Eto'o was playing for Inter Milan, the referee stopped the match when Cagliari fans made racist chants.
A three-time Champions League winner, Eto'o has also played for Real Madrid, Anzhi Makhachkala and Everton.
He played down concerns over racism tarnishing the 2018 World Cup in Russia, saying: "My experience in Russia was the most beautiful of my sporting career. I came away with a very good impression."