Artwork of England football defeats sells for £425,000
Last updated on .From the section Football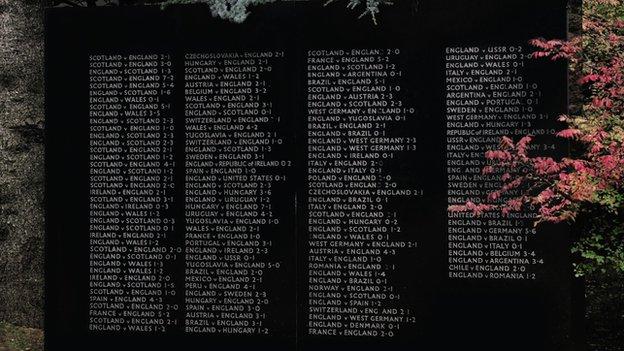 A piece of artwork detailing England's international defeats from 1874-1998 has sold for £425,000 at auction on Tuesday.
Italian Maurizio Cattelan produced the piece, which has England's defeats carved into a large granite block.
It starts with a 2-1 defeat by Scotland and ends with a 2-1 loss to Romania at the 1998 World Cup.
In the catalogue notes, Cattelan said: "I guess it's a piece which talks about pride, missed opportunities and death."
The artwork, made from MDF and steel, measures 2.2m (7.2ft) high, 3m (9.8ft) wide and 60cm (2ft) deep.
Notable results include the 1-0 loss to the United States at the 1950 World Cup, the 2-1 defeat by Argentina at the 1986 World Cup and the 6-5 penalty shootout defeat by Germany in the semi-final of Euro 96.