Zimbabwe FA in 'financial quagmire'
By Steve Vickers
BBC News, Harare
Last updated on .From the section Football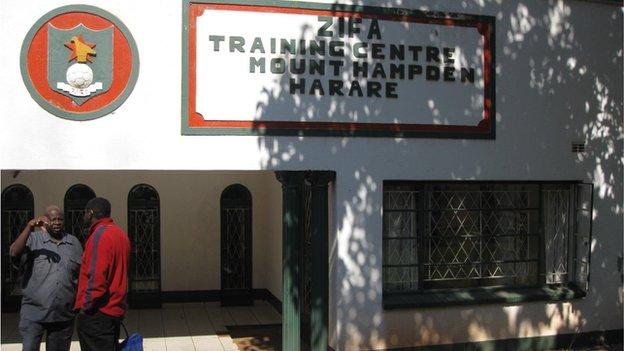 The Zimbabwe Football Association (Zifa) has auctioned the assets from its Fifa-financed national training centre in order to pay debts.
An artificial pitch, equipment, beds and furniture at the facility on the outskirts of Harare have been sold.
Zifa owes over US$4m, including $88,000 to an ex-employee who had taken legal action over an initial $12,000 debt.
"We are in a financial quagmire, we are in trouble," Zifa spokesman Xolisani Gwesela told BBC Sport.
"It's a microcosm of what's happening in the economy as a whole. The economic environment in the country is very tough, and we won't make it without government and corporate support.
How Zifa is trying to deal with its spiralling debt
In April 2014 Zimbabwe FA chairman Cuthbert Dube (pictured, top) said the association planned to turn to farming to help fund its operations
"But we appreciate the financial problems that government is experiencing, so we are looking to corporations and even individuals to assist."
The training centre and its artificial pitch were constructed using money from world football's governing body, Fifa, and it has been used for training camps for the national youth teams, helping to cut down on accommodation expenses.
The men's team is now based at a police camp, while the women's team is back at the training centre, sleeping on beds that have been hired.
Last week Zifa narrowly avoided seeing its offices in the second city of Bulawayo going under the hammer as a bank owed $1.5m by Zifa agreed on a payment plan.
But Zifa is now struggling to raise the $600,000 it needs for its team to compete at the All-Africa Games, which will take place in September in Congo.
The association admits it has has little idea where the money will come from, while Gwesela has suggested the nation should come together to solve the problem.
"The national football teams are not the responsibility of one individual but the collective responsibility of everyone," he said.