Kilmarnock: Michael Johnston eyes attendance boost
By John Barnes
BBC Scotland
Last updated on .From the section Football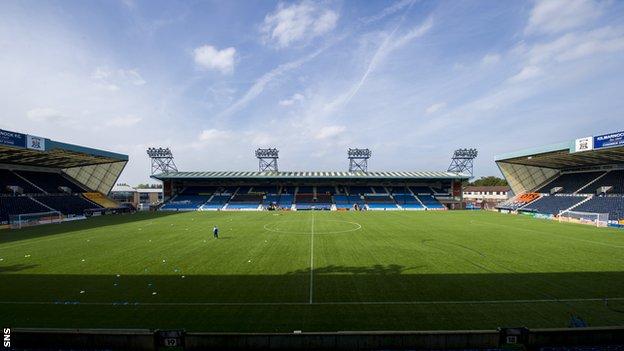 Outgoing Kilmarnock chairman Michael Johnston has issued a rallying call to try to help boost attendances.
As the club reported a loss of £453,272 in their accounts for the year ended 30 May 2014, they also reported net funds of £7,220 as opposed to the net debt of £9.79m the previous year.
Johnston will end a nine-year spell as chairman at this month's annual general meeting.
He will be replaced as chairman by director Jim Mann.
Johnston said: "These 10 seasons have been eventful not just for Kilmarnock but for Scottish football in general.
"Clubs thought to be permanent fixtures in the hierarchy of top tier football such as Heart of Midlothian, Hibernian and Rangers have been relegated.
"Clubs which once boasted wealthy backers and much stronger balance sheets than ours have been rendered insolvent and then resurrected - Dundee, Dunfermline, Hearts, Motherwell and, of course, Rangers.
"We have avoided these setbacks and now enjoy our 22nd consecutive season of top flight football.
"Supporter attendances have dropped all over Scotland and our own figures have been affected by the drop in Celtic's away support, in large part due to TV scheduling of kick-off times, and the absence of Rangers from the Premiership.

"That dynamic may alter next season but every shareholder can help our club by purchasing a season ticket and encouraging lapsed supporters to return."
Kilmarnock's turnover to the end of May 2014 was £4.5m, which is down on £6m from the previous year.
These figures also reflect a reorganisation of the club's finances that took place in March 2014, which saw their bank debt of £9m cleared.
In addition, a loan of £885,000 due to former chairman Jamie Moffat was reduced to nil, while the removal of the Park Hotel from the club's portfolio may prove to be a sound piece of business.
Mann, who will become chairman after Johnston's departure, is a lifelong Killie fan who recently retired from a business career in the banking and travel industry.
Johnston, in his statement to shareholders, added: "It has been an honour to serve as chairman for almost 10 football seasons and I wish Jim the best of luck and sound judgement during his time as chairman."
He highlighted the financial difficulties that have faced his club and Scottish football, adding: "We have survived all of this turmoil and can plan ahead from a position of strength. Bank debt and other loans totalling almost £14 million have been eliminated and we have attracted significant new shareholder investment."