Fifa World Cup: Bhutan face Sri Lanka in Asia qualifying opener
Last updated on .From the section Football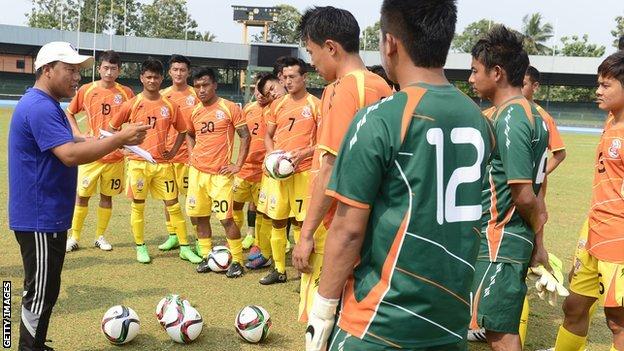 They are officially the worst team in world football and pay their key players little more than £100 a month but at least Bhutan will have a "god" supporting their debut World Cup qualification effort.
In the first leg on the shores of the Indian Ocean, the representatives of an impoverished, landlocked territory wedged between India and China will attempt to belie the Fifa rankings by overcoming a nation 36 places above them in 173rd spot.
Their chances have been enhanced by the decision by the national federation to pay a select group a monthly fee of 10,000 ngultrum (£107) but the majority of the squad are either students or are part-time players.
Indeed, the most feted member of the group is striker Chencho Gyeltshen, who plays professionally for Thai side Buriram United.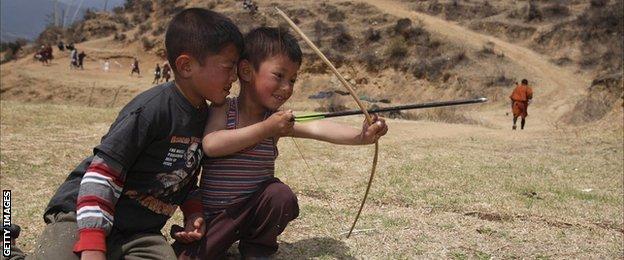 Yet despite such disadvantages, 24-year-old captain Karma Shedrup Tshering is bullish.
"The world ranking does not matter," he said. "It is just a number. It is not a reflection of our performance, but the [very low] frequency of matches that we have played."
Bhutan, who joined Fifa in 2000, have taken part in 18 internationals since 2008, the year of the most recent of their three wins - a 3-1 triumph in the 2008 South Asian Football Federation (SAFF) Championships against Afghanistan in Colombo.
The others were comprehensive victories over Montserrat and Guam over a decade ago in the picturesque surroundings of Changlimithang Stadium, Thimphu.
The venue, more renowned for its Royal Pavillion, snow-capped surroundings and the national sport of archery than football, is the location for next week's second leg.
2018 Fifa World Cup AFC Preliminary Round
Cambodia v Macau, Chinese Taipei v Brunei Darussalam, India v Nepal, Sri Lanka v Bhutan, Timor-Leste v Mongolia, Yemen v Pakistan.
But aside from the home advantage garnered by the climatic contrast to Colombo, the Bhutanese will have another factor in their favour.
Lama Dzongsar Khyentse Rinpoche is a filmmaker and writer but is also the primary custodian of the teachings of Jamyang Khyentse Wangpo and was recognised, at the age of seven, as the third incarnation of that particular brand of Tibetan Buddhism.
His obsession with football is such that he directed a 1999 film called The Cup about two football-mad novice monks in a country which only began to receive television broadcasts that year.
"If I am in Thimphu I will definitely go to the game because I am kind of respected here," he told Sportshour on BBC World Service.
"Even though I'm not, I act like a god. So if I go I might have to wear wigs and disguise myself."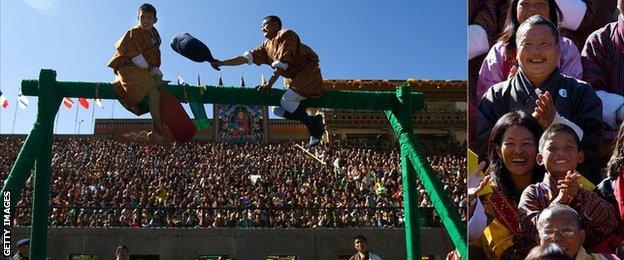 The 54-year-old, who studied in London, attended matches at the World Cup in Brazil and has even sought the counsel of some of the game's biggest names in his attempts to form a team of his own.
"I have asked Arsene Wenger and Barcelona if they could help me with how to do it. Of course they haven't replied but I have this dream still," he said.
"I don't really consider Buddhism as a religion - it's a philosophy. My religion is football."
The Lama concedes that Bhutan are unlikely to advance from this stage of qualification, which will contain six matches between the 12 lowest-ranked teams in the Asian confederation.
But winger Kuenga Gyeltshen is remaining positive about the chances of Chokey Nima's young side.
"I cannot guarantee 100% a win. But we'll fight until the last minute," he said.