Tom English's midweek column: Rangers and drugs in cycling

By Tom English
BBC Scotland
Last updated on .From the section Football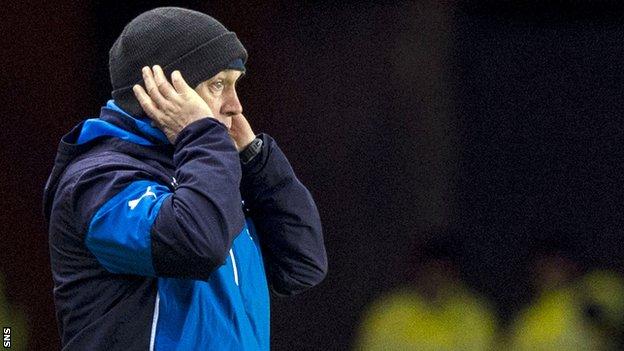 Opinions vary on the origins of the expression, but the consensus seems to be that it was a radio presenter in San Francisco who first came up with the wording.
Back in 1985, there were plans afoot to renovate Candlestick Park, the rundown home of the San Francisco Giants baseball team. The radio host wasn't a fan of the idea.
He suggested a new downtown stadium. Trying to renovate Candlestick Park was like "putting lipstick on a pig," he said. The quote was picked up by the Washington Post and soon it was being applied to every 'silk purse, sow's ear' situation.
Like the one at Rangers right now.
The presence of the new board at Ibrox, in the company of the great John Greig, on Tuesday evening was akin to putting lipstick on a pig when you consider what they were watching - a soulless 1-1 draw against Queen of the South to sit alongside their hapless 0-0 draw with Cowdenbeath on Saturday. Rangers have won just one of their last seven matches.
All manner of change off the field at Rangers cannot deflect from the awfulness of what is on the pitch at the moment. The club has got to the spectacular point where virtually their entire squad - with a couple of exceptions - is not good enough.

They have accumulated a bunch of players who, apart from their talent deficiencies, are weak-willed excuse-makers.
There is little leadership in the team. There is not a whole lot of pride either.
Most supporters can forgive a player if he is seen to be trying his heart out, but the accusation of 'hiding' can be levelled at too many at Ibrox. There has to be - and will be - a clear-out in the summer of epic proportions.
Action needs to be taken sooner than that, though. With every passing week, Kenny McDowall, the interim manager, is morphing into the permanently miserable donkey, Eeyore from Winnie-the-Pooh.
He is moping his way through his notice period. Earlier in the week, he suggested that Ally McCoist's return to Ibrox would be a great thing. In the same set of interviews, he also said that Walter Smith's return would be inspirational. He came across as a man who was reaching out for a life raft - any life raft.
Stuart McCall has given McDowall a way out.
McCall has been appointed in the short-term, a sticking plaster for a gaping wound. He is a bright and positive manager, a man who did excellent things in his years at Motherwell.
His life at Fir Park ended in disappointment, of course. McCall admitted that poor results at the beginning of this season gave him so many sleepless nights that he felt he had no option but to leave his post.
In that regard, he shouldn't bank on getting much slumber in the months ahead. He's an impressive operator but he's inheriting a self-pitying squad that's in a rut so deep that you have to wonder if he can get them out of it and through the play-offs.
The rebuilding of Rangers is a project that will take an awfully long time, but in the business of getting somebody in the manager's office with the capacity to motivate they've at least taken an important first step. McCall gives them the change that McDowall clearly could not.
Moaning Millar missed time to speak out
Lloyd Mondory is a journeyman professional cyclist, a middle-of-the-road guy with the AG2r-La Mondiale team, a Frenchman with a Grand Tour best finish of 84th in the 2011 Vuelta.
On Tuesday, Mondory tested positive for EPO in a sample collected out of competition in February. He's been provisionally suspended and is probably looking at a two-year ban.
Mondory's positive test came in an interesting week for cycling. The fallout continues from the Cycling Independent Reform Commission (CIRC), the report into how a culture of doping took grip of the sport in the 1990s and 2000s.
Across its 227 pages, the CIRC contains many powderkeg moments, with David Millar, the once-banned Scottish rider, in the vanguard of the criticism of its findings.
At the heart of this is the section where an unnamed professional rider says that, even today, 90% of the peloton is doping.
Brian Cookson, the president of the sport's governing body, said he hopes, and thinks, that the 90% figure is not correct. He believes that it's closer to 20%.
Even if Cookson is right, that would mean that 50 riders on the start line of a Grand Tour would be dopers. It's not exactly reassuring.
Nor is Mondory's positive test. We are asked to believe that a journeyman is doping but the elite of the sport are not.

Millar suggest that there are still dopers out there but that they are the old guard. Mondory is 32. Millar believes that younger riders are clean and should not be tarred with the same brush.
The Scot has challenged the report on numerous media platforms. He says it is guilty of making unsubstantiated claims that damn every rider.
He argues that the compilers of the report did painfully few interviews with current professional cyclists and therefore cannot know the reality of the modern peloton. He reckons that a maximum of 6% of the 174 people interviewed for the report were current pro cyclists.
"By my calculations, they (CIRC) interviewed 25 riders/former riders," wrote Millar in a column in the Telegraph. "Sixteen of these allowed their name to be published in the report, the other nine preferring to remain confidential, as is their right. Of the 16 names published, only one is a current professional cyclist, Chris Froome."
There is a problem, though. Millar casts doubt on the integrity of the evidence given by ex-dopers.
"The majority of those published interviewees left the sport due to a doping ban never to return," he wrote. "Aren't these exactly the type of people who suffer from 'the 'false consensus effect' where athletes with a history of drug use overestimate the prevalence of drug use among other athletes."
Millar might call them part of the "false consensus effect", but others might call them whistleblowers. Important ones at that.
Floyd Landis was a whistleblower. Yes, he was a cheat and a liar as a bike rider (as was Millar), but in the end, he told the truth about what was going on (as did Millar), particularly in Lance Armstrong's world. Millar attacked him at the time. "He (Landis) has nothing left in cycling, so he just wants to burn the house down."
Landis shamed cycling, but then he did it a service by speaking out. Millar seems to forget that. He'd be in a stronger position to criticise the report had he been interviewed for it. He was not. CIRC wanted to talk to him, but a date could not be fixed.
"I didn't speak to CIRC. They 'invited' me. Only they forgot I was then an active professional cyclist who spends most of his time on the road and has a wife and two baby boys at home. I never found time to travel to them and they never once mentioned coming to me. I regret not making the time after reading the report.
"My regret for not speaking with CIRC is tinged by irony, because I am an ex-doper. For many, I will always be a doper; which is true.
"I, like many others, have worked incredibly hard to create an anti-doping culture within cycling and yet the CIRC report paints a picture of a new omerta and once again it's the innocent and clean cyclists who are silent. I wish I could have given them a voice."
He could have. Miller could have championed the cause, and defended the honour, of the peloton had he found the time to talk to CIRC. Moaning in the aftermath of the report is a bit rich.
Calling foul on new Rangers director

The new regime at Rangers are training their guns on the old board. Derek Llambias and Barry Leach, two directors voted out last week, have got it in the neck for allegedly uttering "untruths" and "inaccuracies" in relation to funding offers available to them while they were in power.
There's also been mention by the new board of a coarse comment made by Leach in a meeting with a Rangers' fans group, a comment that the incumbents have rightly frowned upon as vulgar and not befitting a Rangers director. In a club statement, it was said that the remark fell "well below the standard we would expect from a senior employee".
Not just an employee, though, surely? Anybody representing the club should desist from using intemperate and offensive language on whatever platform. That message, you would hope, has been relayed to their newest director, Chris Graham, who will sit on the board as a representative of the fans.
In company, Graham is a bright and decent guy, a Rangers man to his shoelaces who did an amount of good things when galvanising the Rangers support against the old board and in favour of the new guard.
But too often his Twitter guise has been foul-mouthed and objectionable. Of course, he himself has suffered from abuse from cyber warriors, but he became an attack dog himself at times and some of it was particularly ugly and, as Rangers might put it, well below the standard expected.
It's hard to reconcile the person and the social media troll. As he takes up a position of responsibility, he should have a think about the tone of his activity online - and stop it.