Scotland 3-1 Netherlands: Scots women avenge play-off defeat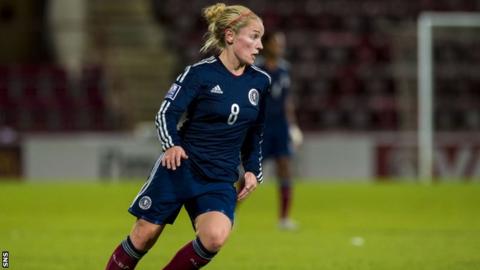 Kim Little scored a hat-trick as Scotland ended the Cyprus Cup with a 3-1 win over the Netherlands in Larnaca.
The Seattle Reign midfielder helped the Scots gain revenge over the Dutch after October's World Cup play-off defeat.
"She was brilliant," manager Anna Signeul told the Scottish FA website.
"Defensively she was fantastic and obviously attacking as well with the three goals. She has such a high work rate."
Little put Scotland ahead after 16 minutes when she rounded Dutch goalkeeper Angela Christ.
When Christ could not hold the ball in the wet conditions Little was able to make it 2-0 nine minutes into the second half.
Anouk Hoogendijk headed home Jill Roord's free-kick to pull one back for the Netherlands.
However, two minutes into injury time, Little was sent clear by Caroline Weir to score her fifth goal of the tournament.
The result means Scotland finish seventh in the tournament.
Match details taken from the Scottish FA website.