Greek Cup match suspended after crowd trouble
Last updated on .From the section European Football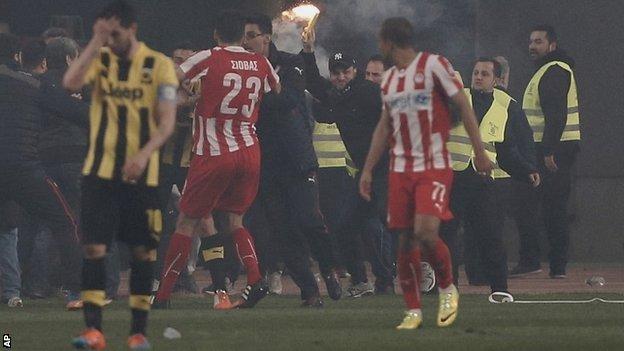 The Greek Cup quarter-final between AEK Athens and Olympiakos was called off after a pitch invasion by fans in the Olympic Stadium.
Groups of AEK Athens fans ran onto the pitch just moments after their team fell behind to an 89th-minute goal with police moving in to restore order.
Last month the Greek Super League was suspended for a week by the government after persistent crowd trouble.
A Super League board meeting also ended in a brawl.
Greece's recently-elected Syriza ruling party say they are determined to stamp out the problem of crowd violence.
Greece's top flight has been suspended three times this season already, with February's ban initially being indefinite before being set at one week.
In the latest incident, about 25 AEK supporters ran onto the pitch before throwing objects and chasing Olympiakos players following the late goal by Franco Jara.
The Olympiakos players immediately headed off the pitch and into their dressing room.
They were soon followed by match officials and AEK players and over half an hour later officials announced that the game would not resume, with leaders Olympiakos progressing to the semi-finals.
AEK team officials complained that Jara took off his jersey, kicked the corner flag and then Olympiakos coach Vitor Pereira made a gesture to the crowd inciting the trouble.
"Greek football has reached the bottom," AEK president Dimitris Melissanidis said. "I think with such refereeing we will not see progress. We will do our part to help the government's attempt to change things for the better."