Jose Mourinho: Chelsea could not cope with pressure
Last updated on .From the section Chelsea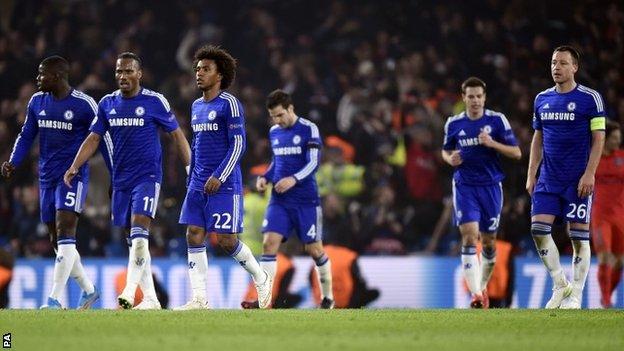 Chelsea struggled mentally during their last-16 Champions League defeat by 10-man Paris St-Germain at Stamford Bridge, says manager Jose Mourinho.
Zlatan Ibrahimovic was sent off 30 minutes into the 2-2 draw but PSG went through on away goals after extra-time, with the tie ending 3-3 on aggregate.
"Our performance was not good enough. The opponent was stronger, coped better with the pressure," said Mourinho.
"We tried to win but the moment they had 10 men we felt too much pressure."
He added: "Paris St-Germain deserved it. When a team can't defend two corners and concedes two goals to corners they don't deserve to win."
The French champions played the last hour of normal time and 30 minutes of extra-time without striker Ibrahimovic after he was sent off for a foul on Oscar.
Gary Cahill put Chelsea ahead in the 81st-minute but David Luiz levelled with a bullet header to send the game into extra-time.
Eden Hazard's penalty after Thiago Silva's handball looked to be sending the hosts through 3-2 on aggregate, following a 1-1 first-leg draw in Paris, but the Brazilian made amends with a header six minutes from time.
The result saw PSG gain revenge for last season's quarter-final exit at the hands of Chelsea.
"They have a reason to celebrate and I told my players it is not after a bad match that I kick tables and doors, it is time to be calm and analyse as a team," Mourinho told Sky Sports.
"They were aggressive, what we used to call 'clever' on the continent. In England, that is not accepted as clever.
"They did what they did, after the second goal there was no more game. Simulation of injuries, they stopped the game completely.
"It is the beauty of English football but in continental football the other teams are more prepared to cope with the mental side. I wouldn't say 'dirty', but the other side."
"We need to react. We have a Premier League to win. I told that to the players," added Mourinho, who led the Blues to the League Cup earlier this month.
"It is not a time to cry, and also not a time to laugh. It is time to analyse the situation.
"If we win the Premier League and the Capital One Cup it will still be a fantastic season."
Reaction to the 'ugly side' of Chelsea's defeat
Former Liverpool and Republic of Ireland striker John Aldridge tweeted:"Chelsea simply got what they deserved. The way they played portrayed their manager. Negativity at home, rarely works."
Former Liverpool manager Graeme Souness on Sky Sports:"The reaction of the Chelsea players on the challenge on Oscar is something we can do without. I find it totally unacceptable. That's how pathetic it is."
Ex-Argentina midfielder and Tottenham manager Osvaldo Ardiles on Twitter:"Very very poor performance for Chelsea, so defensive. Pity to see such a wonderful array of players playing so negative. Best team won."
BBC Radio 5 live commentator Alan Green:"Never in a month of Sundays was this an acceptable game of football. I'm not defending any of these cretins out there who are behaving disgracefully."
BBC Radio 5 live presenter Mark Chapman:"They are all as bad as each other. I don't think these two sides are the only ones that do it. We see it week in week out."
Former Chelsea defender Michael Duberry on Twitter:"Disappointing is the best way I can describe tonight."
Ex-England cricket captain Michael Vaughan on Twitter:"Let's be honest. With all the talent on show its a shame both teams have set out to try and cynically out do each other."