Zlatan Ibrahimovic: Chelsea players acted like 'babies'
Last updated on .From the section Chelsea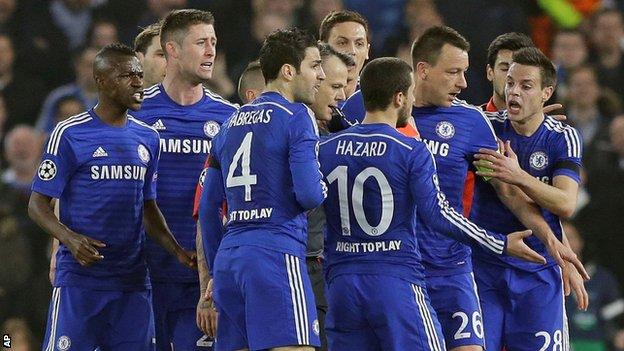 Chelsea's players acted like "babies" during the incident that led to Zlatan Ibrahimovic's red card on Wednesday, the Paris St-Germain striker says.
"When I got the red card all the Chelsea players come around," he said.
"It felt like I had a lot of babies around me."
Blues players surrounded Dutch referee Bjorn Kuipers following Ibrahimovic's lunging tackle on Brazilian midfielder Oscar.
"I don't know if I have to get angry or start to laugh. For me when I saw the red card I was like 'the guy doesn't know what he's doing'," the PSG forward added.
Ibrahimovic, 33, also suggested Oscar feigned injury in the challenge, saying: "I don't know if he was acting afterwards. Doesn't matter. We won the game, we went through and let's see what happens."
The game at Stamford Bridge finished 2-2 on Wednesday and 3-3 on aggregate with PSG going through to the quarter-finals on away goals.
Uefa have confirmed Ibrahimovic's red card cannot be overturned, meaning he will miss at least the first leg of the French champions' quarter-final tie.
All red cards in Uefa competitions are reviewed by the governing body to determine whether mandatory one-match bans are extended.
Reaction to the 'ugly side' of Chelsea's defeat
BBC Radio 5 live commentator Alan Green:
"Never in a month of Sundays was this an acceptable game of football. I'm not defending any of these cretins out there who are behaving disgracefully."
BBC Radio 5 live presenter Mark Chapman:
"They are all as bad as each other. I don't think these two sides are the only ones that do it. We see it week in, week out."
BBC Radio 5 live summariser Mark Lawrenson:
"Chelsea's reaction as a team almost seemed choreographed. It was as if someone pushed a button and said, 'Go and surround the referee'. I think Diego Costa ran 50 yards - what's it got to do with him?"
'Not the British way'
Former Liverpool captain and manager Graeme Souness labelled Chelsea's approach "pathetic" and was particularly angered by their reaction to Ibrahimovic's challenge.
"PSG had to put up with stuff which I find really, really unappealing," the Sky Sports pundit said.
"To a man, they (Chelsea players) surrounded the referee, (Diego) Costa ran 50 yards to get involved.
"That is something we can do without. That is not the British way of doing things, it's creeping into our game, which is, I find, totally unacceptable."
'Dirty tricks' Chelsea
Fellow Sky Sports pundit Jamie Carragher was equally scathing.
"The worst bit of dirty tricks was from Chelsea, surrounding the referee, the reaction was disgraceful," the former Liverpool defender said.
"Jose Mourinho could end up being the most successful manager ever with the trophies he goes on to win in his career but I don't think him and his teams will be ever be loved because of actions like that.
"Does Mourinho care? I don't think he probably cares. I think it's sad."
Why won't Ibrahimovic's red card be rescinded?
The referee's decision will not be overturned by Uefa unless it is a case of mistake identity, the governing body have confirmed.
"Decisions taken by the referee on the field of play are final and may not be reviewed by the Uefa disciplinary bodies," its disciplinary regulations state.
Chelsea manager Jose Mourinho and his PSG counterpart Laurent Blanc had hoped the Sweden striker's red card could be overturned, allowing him to play in the quarter-finals.
Mourinho felt officials had a poor view of Ibrahimovic's sending-off.
Zlatan Ibrahimovic Champions League factfile
Age:
33
Champions League appearances:
114
Champions League goals:
44
Became the 10th player to score four goals in a Champions League game when PSG beat Anderlecht 5-0 in October 2013
Has never won a Champions League title