Champions League: Chelsea lose ugly against Paris St-Germain

By Phil McNulty
Chief football writer
Last updated on .From the section Football1127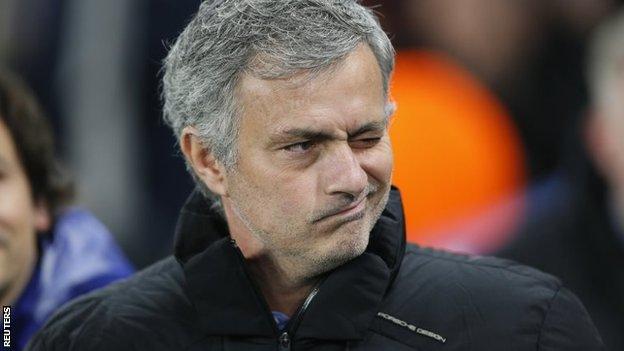 Chelsea manager Jose Mourinho has turned the trick of winning ugly into an art form - but there is no merit in losing ugly and that is exactly what his side did as Paris St-Germain deservedly dismissed them from the Champions League.
As the cards stacked up against PSG, the need for an away goal piled on top of the harsh first-half dismissal of talisman Zlatan Ibrahimovic, it was the Premier League leaders who cracked under pressure, a fact acknowledged by a despairing Mourinho in the aftermath.
In a last-16 second leg that was dramatic and dreadful in equal measure, Chelsea made an undignified exit on away goals after a 2-2 draw at Stamford Bridge and a 3-3 aggregate result.
It was an eyesore of a performance that also demonstrated the dark side of a fine team's personality.
Chelsea's ugly face exposed
The red card for Ibrahimovic after 31 minutes threatened to be a fractious game's defining moment and the chaotic crowd scene that accompanied it did Chelsea no credit.
Seconds after the Swede's challenge on Oscar, not only was referee Bjorn Kuipers reaching for his red card but he was accompanied, in a truly remarkable show of speed, by nine Chelsea players demanding the full sanction, baying at the official while waving frantically to the sidelines in a manner that suggested the Brazilian was seriously injured.
The only ones missing from this unsavoury gathering were the stricken Oscar, who made a swift recovery despite the grave concerns of his team-mates, and goalkeeper Thibaut Courtois who, for once, was slow to come off his line. It was a cynic's delight.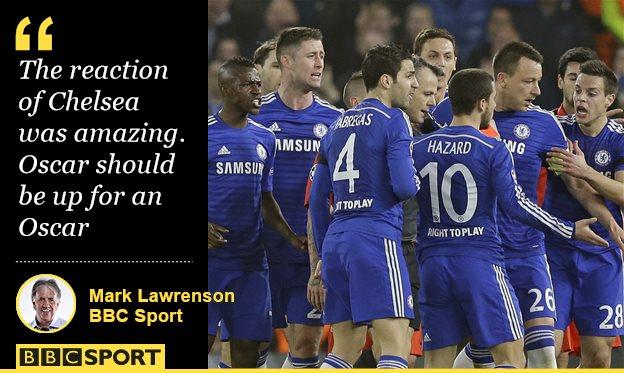 It was a disgraceful scene and while Chelsea are not alone in these antics, this was an extreme example of a referee being hounded by the mob. PSG were not blameless but the scale of the protesters around Kuipers was embarrassing.
Ibrahimovic actually appeared to be trying to pull away from a 50-50 when he collided with Oscar. It was a borderline decision and easy to see why Kuipers would show red but the reaction of Chelsea's players was out of all proportion and a shocking show of mass dissent, captain John Terry almost doing a war dance of fury seconds after the tackle.
Condemnation was swift and Ibrahimovic said later: "When the red card happened the worst thing was the Chelsea players. I felt there were 11 babies around me." Slight exaggeration in numbers but he has plenty of sympathisers.
Former Liverpool defender Jamie Carragher, working as a pundit for Sky Sports was equally critical - although for balance it must be stressed that he was never slow to voice his opinions to an official in the face of perceived injustice, a fact confirmed by a subsequent avalanche of photographic evidence on Twitter.
"The reaction from Chelsea's players is disgraceful," he said.
"It comes from Jose Mourinho's teams - they have this reaction. It's not a one-off. I always think with Mourinho's teams they will always be respected but never loved because of situations like this."
And Mark Lawrenson, analysing the game for BBC Radio 5 Live, said: "The reaction of the Chelsea players was amazing when you consider the tackle was not that bad. They sprinted almost to a man to the referee."
Former Tottenham midfielder Ossie Ardiles tweeted: "Gamesmanship of Chelsea players embarrassing in the sending off of Ibrahimovic. Why such a wonderful collection of players do this I don't know."
If the rest of Chelsea's approach had carried the same urgency as the rush to confront the referee after Ibrahimovic's challenge they may still be in the Champions League. As it was, an already painful exit was accompanied by ignominy.
Costa could not cut it in the Champions League
Diego Costa's physical presence and willingness to fight his corner has made him a compelling and potent addition to Chelsea since his £32m summer arrival from Atletico Madrid.
Costa is the Premier League's joint leading scorer alongside Manchester City's Sergio Aguero with 17 goals and was on target in the 2-0 Capital One Cup final win against Spurs at Wembley earlier this month.
The Champions League, however, has been a different story and his ill-disciplined display against PSG not only mirrored Chelsea's performance but also his own in this competition.
Costa had only one shot on target on Wednesday and has failed to score in seven Champions League appearances.
And while his natural inclination for a tear-up has worked well in the domestic game, it cut no ice with PSG as he was involved in a running battle with former Chelsea defender David Luiz and was lucky to stay on the pitch.
Costa, in the interests of fairness, was a victim as he was caught by David Luiz's flying elbow off the ball in the first half and should have had a penalty when he was tripped by Edinson Cavani - but his lack of discipline was alarming.
Playing on the edge is one thing, almost daring the referee to send you off is another. No game goes by without Chelsea's "Mr Angry" getting involved in some scrape either with an opponent or authority.
PSG were furious that a wild lunge on Thiago Silva went unpunished, an incident followed by a very close touch of heads with David Luiz that brought a farcical reaction from the Brazilian.
Even on a yellow card, Costa shoved Marquinhos to the ground, an act that would surely have led to his dismissal had it been witnessed by the referee.
And, predictably, he even refused to go quietly at the final whistle. He stalked around and found Yohan Cabaye before the dignified Petr Cech restored some order and he was led away shaking his head and muttering.
Costa's bull-in-a-china-shop approach has had the desired impact in the Premier League but in the Champions League, especially when he was needed on Wednesday, he may actually be better focusing his entire attention on his football ability, which is considerable.
Mourinho mind games miss the target
Jose Mourinho attempted to set the agenda before the game by painting PSG as a side with a physical edge.
Rarely has the name of Shrewsbury Town been invoked in a Champions League media briefing but Mourinho pulled it off when he said: "This season we've played sides from the Championship in the cups, against teams from League One and Shrewsbury Town in League Two, but the most aggressive team was PSG."
Match facts

Jose Mourinho had not been eliminated at the last-16 stage of the Champions League since March 2009, when his Inter side lost to Man Utd

Zlatan Ibrahimovic has been sent off four times in the Champions League, the most alongside Edgar Davids

Diego Costa has failed to score in eight hours and 28 minutes of Champions League football for Chelsea.

PSG are the second French team to knock Chelsea out of a European competition after Monaco's win in 2004.
Whether this was in referee Kuipers' mind when Ibrahimovic had his coming together with Oscar we will never know, and it was a bit rich coming from the manager in charge of team infused with the spirit of those shrinking violets Terry and Costa.
Either way, Mourinho was wrong because it was PSG who played the slicker football, kept their nerve better when the pressure was on and who deservedly reached the last eight.
In Mourinho's defence, he took his leave of the Champions League with good grace as he accepted PSG were deserved winners while reserving rare censure for his own team.
He has played the game (on and off the pitch) and won on so many occasions - not this time.
Chelsea's armour cracks
Mourinho's Chelsea have earned their reputation as the toughest of opponents to crack, a monument built on their manager's attention to detail, tactical mastery and development of a team ethic built around concrete-clad character.
So it was a stunned Mourinho who sat in front of the media late on Wednesday night and effectively admitted the iron men had cracked under the pressure of trying to get the result they needed to beat the French champions.
First, credit must go to PSG - in what was often a dog's dinner of a football match, they showed remarkable resilience to play for an hour of normal time then the extra period without their great superstar Ibrahimovic and prevail.
Chelsea, and Mourinho must take some responsibility, were flat even before his red card.
They were cautious, negative and showed no real inclination to pounce on PSG's numerical disadvantage. Were they happy with 1-1 and a win on away goals?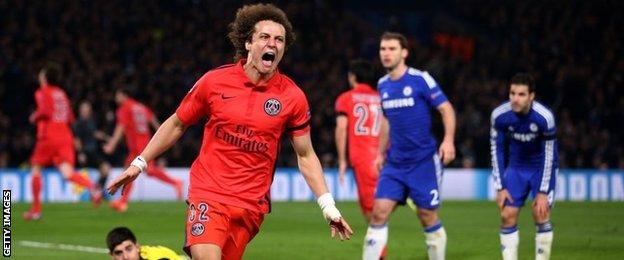 And the manner of the goals conceded were like a dagger through Mourinho's heart. Two corners, two goals - the sort of thing he takes as a personal insult.
The evidence is grim. Chelsea could not progress despite holding a favourable starting position after a 1-1 draw in Paris, against a team who lost their finest player after only 31 minutes and then after twice holding the lead against 10 men late in the game.
PSG, despite their reduced circumstances, showed greater ambition than Chelsea and those who like to believe Mourinho's default position will always carry a touch of conservatism were quick to detect those vital signs.
Chelsea lacked verve and adventure, something that will also sustain Mourinho's critics, but it was having to accuse his players of failing to cope with pressure that will have puzzled and concerned him most. Mourinho teams are not often associated with a soft underbelly.
The Portuguese rightly pointed to the Premier League as more than a potential consolation prize for going out of the Champions League - but this was damaging on all levels.