Football match abandoned after 58 seconds due to fog
By Brent Pilnick
BBC Sport
Last updated on .From the section Football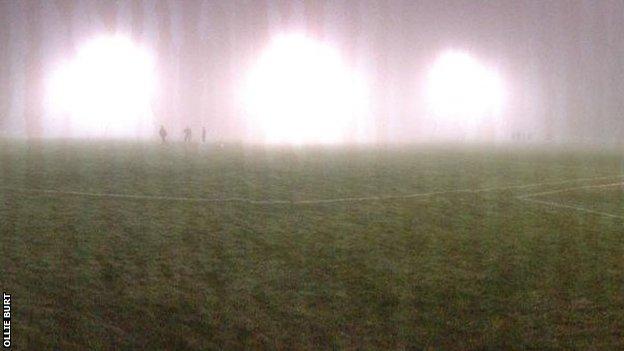 A football match has been abandoned after just 58 seconds because of fog.
Referee Neil Hunnisett defended his decision to start the top-of-the table game between St Austell and Bodmin Town in the South West Peninsula League.
"I've officiated in worse," he said. "I wanted to see if the fog would clear."
However, Mike Sampson from the league said: "We only knew the game had kicked off because the whistle went. The linesman put his flag up and it took the referee 58 seconds to see him."
St Austell refunded the cost of match tickets for the 150 fans who attended the match.
The game, however, is not the quickest-ever to be called off - a 1998 World Cup qualifier between Estonia and Scotland was abandoned after three seconds after the Estonia team boycotted the game due to a dispute over the floodlights at the Kadrioru Stadium in Tallinn.
St Austell, who are are fourth in the league and have eight games in hand on leaders Saltash United, who are 13 points ahead.
"It was a very important game in the league," said Sampson.
"St Austell's games are piling up, they'll be playing three or four times a week come the end of the season, so to be fair to the referee he tried everything he could to get it on.
"The fans were very good about it. St Austell refunded all their money and everybody was very good about it."
But Sampson did question whether the game should have gone ahead in the first place.
"As we pulled into St Austell station it was hard to see out of the windows," he said. "I had to put my glasses on to eat my pasty."
Hunnisett, after initially defending his decision to try play the fixture despite low visibility, admitted he was quickly proven wrong.
"I could have called the game off when I got to the ground," he told BBC Radio Cornwall.
"My two assistants and assessor went along with my decision. However, just prior to kick-off it was very apparent I had probably made the wrong decision.
"Do I feel bad? Of course I do. I was looking forward to this game as it's a big appointment and I am aware that St Austell have a bottleneck of fixtures too."
The game is expected to be rearranged in April.