Martin Demichelis extends Man City contract to end of 2015/16
Last updated on .From the section Football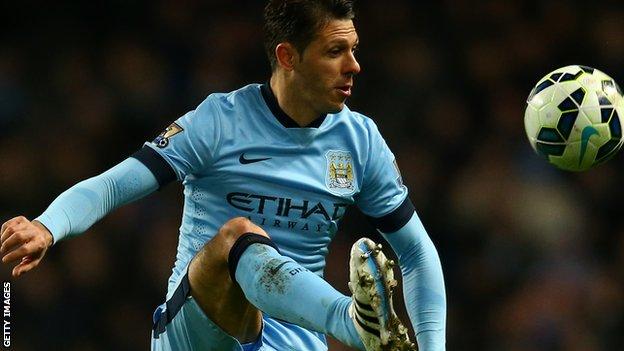 Manchester City defender Martin Demichelis says he will "fight" for the club, for his team-mates and for titles after signing a new contract.
The new deal keeps the Argentina international at the Premier League champions until the end of 2015/16.
Demichelis, 34, has made 30 appearances for City this season.
"Manchester City is a club with a lot of ambition," said Demichelis. "When you get to hold a trophy, it's the best feeling for any player."
He added: "I will fight for this club and for my team-mates until the end of my contract. I will fight to try and win titles."
Demichelis joined Manchester City in September 2013 from Atletico Madrid for a reported £4.2m.
After a shaky start to his time at Etihad Stadium, he played a key defensive role alongside captain Vincent Kompany in Manchester City's Premier League title-winning campaign last season.