Fran Kirby: England & Reading forward on overcoming adversity
Last updated on .From the section Women's Football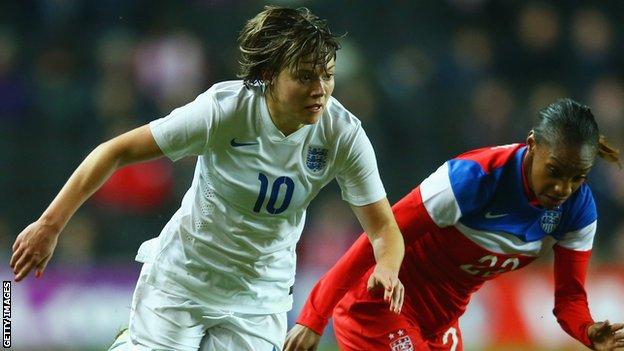 Just four years after quitting football following the sudden death of her mother, Fran Kirby goes into the 2015 Women's Super League season carrying the hopes of town and country on her young shoulders.
With England just three months away from the World Cup in Canada and Reading opening their WSL 2 campaign on Thursday, Kirby knows she has a key part to play at home and abroad.
But four years ago, she faced an altogether different battle. Gripped by depression aged 17 following the passing of her mother three years earlier, Kirby turned her back on the sport.
However, having once been told she was psychologically weak, the Reading forward now has a steely determination and an unbreakable spirit to achieve just one thing: make her late mother proud.
"In myself I knew enough was enough," Kirby, 21, told BBC South Today. "I needed to get back on track and make sure I could be the best player I could be, which is ultimately what my mum wanted me to do. That's what drives me.
"She wanted me to be a professional footballer and one day it just snapped in my head and I thought, 'you're going have to get yourself back playing'."
The story of Kirby's teenage years is a tragic tale. At the age of 14, her mother - who had been a driving force in the early stages of her career - died after a brain haemorrhage.
The shock took three years to sink in and, when it did, Kirby quit football, struggling to come to terms with her loss.
But football and family rallied around the talented young player.
Having made a tentative Sunday League comeback with Reading Town Ladies, she soon returned to the club where she had been since a child - Reading FC.
"I got my love back for the game and I thought I was ready to get myself fit and achieve what my mum wanted me to," she said. "That was really important.
"The people around me were really supportive. My friends, the coaches here at Reading, the staff, even [Reading chairman] Sir John Madejski contacted me to make sure I was okay."

The story of Fran Kirby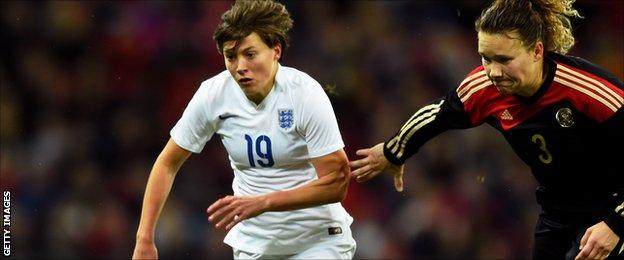 Aged seven: Is taken to football training at Reading for the first time
Aged 17: Quits football after battling depression following the death of her mother
Aged 19: Rejoins Reading and scores 33 goals in her first season
Aged 20: Scores on her England debut
Aged 21: Turns professional - first women to do so at Reading FC
Aged 21: Scores 29 goals in 22 games as Reading finish third in WSL 2

Kirby has never forgotten the support offered to her by Reading in those dark moments and has repaid them by shunning offers from elsewhere.
"A lot of the coaches are still here from when I went through that experience and they pushed me through it and made me who I am today," she said.
"I just want to make sure I can give the club everything and one of my main goals is to get them into the top flight. I'm going to do everything I can to get them there."
Since Kirby returned to football, her progress has been staggering.
Last week, she was part of the England squad that won the Cyprus Cup and she is expected to be a key member of the side for this summer's World Cup.
Before that though, she has her sights firmly set on bettering last season's tally of 29 goals and helping Reading into WSL 1.
If she does, World Cup selection will almost certainly follow.
"It would be a perfect year," she adds. "Whatever happens with the World Cup happens. If I'm picked or I'm not, I'm just going to make sure I'm playing the best I can for my club so we get promoted.
"That's the club's aim since we came third last season. If I can get to go to the World Cup even better, but I'm just focused on the league."
However, for all her success, the memory of her mother is never far away as she continues in her quest to make her proud, at the club she adores, for the woman she will always love.
"When I was younger my mum said to me, 'you're going to be a professional footballer one day'.
"Being able to do it at the club where I started and where she dragged me to training - I did not want to go because I was tiny and didn't want to play with all the taller, older girls - it's really great to play here professionally.
"To be able to do what my mum dreamed of me doing and fulfil one of my dreams is everything I wanted."
The new Women's Super League season begin on Wednesday when Millwall Lionesses face London Bees and Aston Villa meet Everton in Division 2. Liverpool play Sunderland in the opening Division One fixture on 25 March. For more news and match coverage, see our women's football section.