John Terry defends Chelsea over Zlatan Ibrahimovic's 'babies' jibe
Last updated on .From the section Football
John Terry has defended Chelsea's conduct during their Champions League defeat to Paris St-Germain after Blues players were accused of being "babies".
PSG striker Zlatan Ibrahimovic, sent off for a foul on Oscar after 31 minutes, criticised the Chelsea team for surrounding referee Bjorn Kuipers in a bid to influence his decisions.
But Terry said: "Every side is as bad as each other. It's part of the game."
A 2-2 draw at Stamford Bridge send PSG into the last eight.
Despite being reduced to 10 men, the French champions came from behind twice to reach the quarter-finals on the away goals rule after the first leg in Paris had finished 1-1.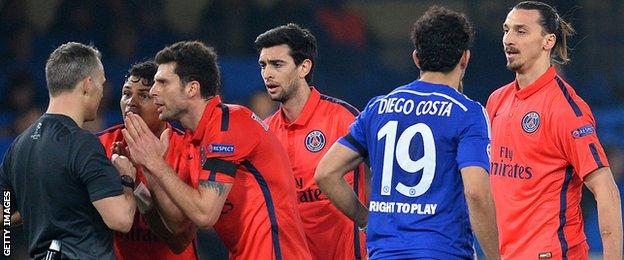 Terry insisted the actions of the Chelsea players were justified because PSG had done the same thing.
"Once they're charging the ref, the only thing we can do is respond," said the former England defender, 34.
"You can't let them surround the ref, trying to get our players booked.
"If I have to run 20, 30 yards, it doesn't look great, but when you're standing back and seeing five or six of their players surrounding the ref, I think I support my team-mates. And once I go, four or five go with me.
"It doesn't look good at all, but that's part of the game. We'll match it if people want to mix it. That's part of our game as well."
Chelsea must now turn their attention to the domestic matters.
The Blues, who hold a five-point lead in the Premier League, host Southampton at Stamford Bridge on Sunday.
"We have to pick ourselves up and go again at the weekend now," said Terry. "Southampton will come here playing on the front foot and, if we're not at it, we'll drop points and slip away in the Premier League."