Steven Gerrard: Players will try every trick in the book to win
Last updated on .From the section Football
Players are so desperate to win football matches they will try "every trick in the book", says Liverpool captain Steven Gerrard.
Chelsea's players have been criticised for surrounding referee Bjorn Kuipers during Wednesday's Champions League exit against Paris St-Germain.
Dutch referee Kuipers sent off PSG striker Zlatan Ibrahimovic for a tackle on Chelsea's Oscar.
"I think it's normal when you play games at that level," said Gerrard.
"Players want to win so much," added the former England captain, who also revealed he has recovered from the hamstring injury he suffered in February and is available for the game against Swansea on Monday.
"You've got managers who want to win so much, players will try every trick in the book to get over the line and try and win football matches.
"Sometimes it doesn't look nice, but we've all been guilty of it throughout our careers, of not always abiding by the rules."
Reaction to the 'ugly side' of Chelsea's defeat
BBC Radio 5 live commentator Alan Green: "Never in a month of Sundays was this an acceptable game of football. I'm not defending any of these cretins out there who are behaving disgracefully."
BBC Radio 5 live presenter Mark Chapman: "They are all as bad as each other. I don't think these two sides are the only ones that do it. We see it week in week out."
BBC Radio 5 live summariser Mark Lawrenson: "Chelsea's reaction as a team almost seemed choreographed. It was as if someone pushed a button and said, 'Go and surround the referee'. I think Diego Costa ran 50 yards - what's it got to do with him?"
Ibrahimovic, 33, claimed Chelsea's players acted like "babies" during the incident that led to his red card in the 2-2 draw at Stamford Bridge.
Despite having a numerical advantage for almost 90 minutes, the French champions progressed to the last eight on the away goals rule after extra time.
Gerrard added: "Football's not always going to look nice. PSG were the better team and good luck to them."
Gerrard on Mourinho's reputation
Gerrard also believes Jose Mourinho won't care if Chelsea's controversial European exit damages his reputation.
The 34-year-old said: "I don't think he'll be interested whether it tarnishes his legacy. He's a winner and he's won many trophies.
"I think every player out there has got respect for him as a manager and he's going to win many more titles as he goes along.
"He'll probably go down as one of the best managers of all time. So I'm in no position to criticise or have a go at him.
"He does it his way, and I respect that, but I'm only interested in one manager and that's the manager we've got here."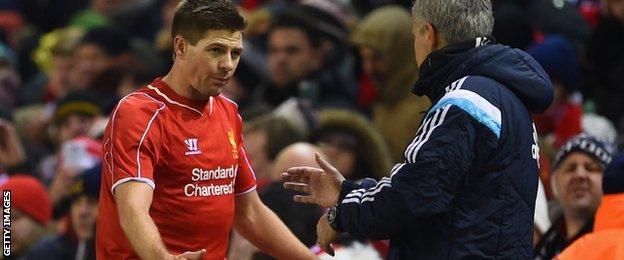 On English teams in the Champions League
Following Chelsea's exit, England's Champions League hopes rely on Arsenal and Manchester City overturning home first-leg defeats to Monaco and Barcelona, respectively.
Gerrard said: "I don't think it's been our year, but we'll certainly be coming back, I don't think it's a crisis.
"Teams will bounce back - Chelsea, City, ourselves, Arsenal will make signings in the summer and come back next year and have a good go.
"It's happened before, where teams have gone out really early and the following year or two later one of us wins it."
On his Liverpool swansong
Gerrard hopes to help Brendan Rodgers' side to Champions League qualification and FA Cup success before he leaves Anfield for Major League Soccer outfit Los Angeles Galaxy at the end of the season.
The legendary midfielder revealed he is fit to return to the squad for the Premier League game with Swansea on Monday after recovering from the injury picked up against Tottenham at the start of February.
"I'm feeling good," he added. "I'm looking forward to the new challenge ahead after this season. I said weeks and weeks ago I want to stay respectful to Liverpool.
"I've just got over a hamstring injury, I'm fit and available for the next game (against Swansea) and I want to finish the season really strongly.
"I want to leave the team in the top four and hopefully go all the way in the FA Cup; that'll be how I want to sign off."
Gerrard was speaking at the launch of a Liverpool All-Star charity match which is taking place at Anfield on Sunday, 29 March.