Bruce Grobbelaar predicts Zimbabwe player exodus
Last updated on .From the section Football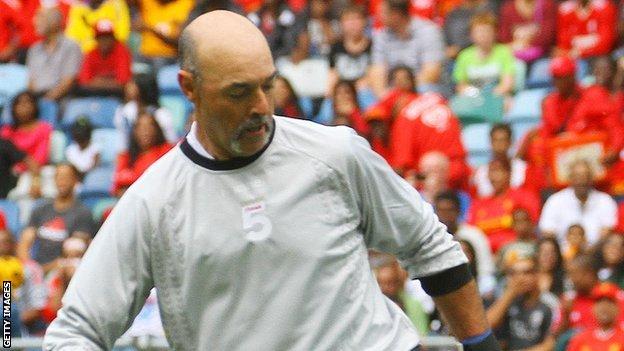 Former Zimbabwe international Bruce Grobbelaar believes players will leave the country as a result of the team's expulsion from the 2018 World Cup.
Grobbelaar told BBC Sport: "Players are going to try play elsewhere - in the South African or Zambian leagues.
"If they haven't played for Zimbabwe, they might gain citizenship where they move to and play for them."
The legendary former Liverpool goalkeeper, who played for his country 33 times between 1977 and 1998, is saddened by the situation but not surprised.
"I have been involved with coaching the national team and I know first hand that Fifa pays the Zimbabwe Football Association (Zifa) so it can pay the coaches, but half of that money goes to the government - and where that goes, I do not know.
"What's left is not enough to pay for the trips that Zimbabwe go on and certainly not enough to pay the coaches.
"I never got any payment when I was a coach. So I know how frustrating it is for the coaches."
With Zifa in dire financial trouble and in debt totalling more US$4m (£2.7m), Grobbelaar cannot see a way out of the situation unless drastic action is taken.
"I think Zifa needs to be dissolved and the organisation started again from scratch. But how can that happen? Governments cannot interfere in football matters - Fifa suspends countries for that.
"The new Zifa would need to be an independent organisation, but who is going to set that up? There are too many hands in the pot of money that comes from Fifa."
"It would need a strong individual that everyone knows in Zimbabwe."