Deila relishing Celtic's challenge for three trophies
Last updated on .From the section Celtic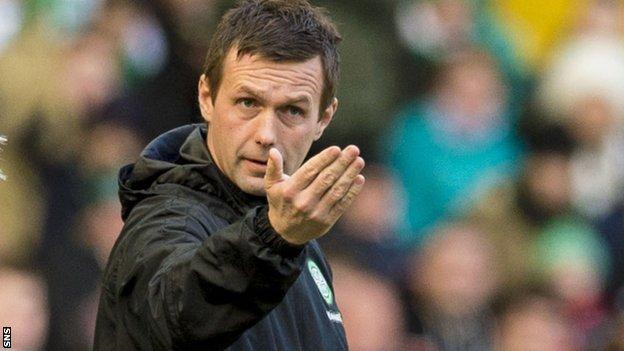 Ronny Deila says his players should "enjoy the moment" as Celtic look to complete one leg of a domestic treble by winning the League Cup on Sunday.
"Every time when you do well you will get more and more important and bigger and bigger games," the Norwegian said.
"We have a really, really good chance - we're in a better position now (to win the treble) than we were in September."
Deila admits the treble is a major target for his side this season, but says the success of the campaign as a whole does not rest on the outcome of Sunday's final.
"If we don't succeed then we're going to be disappointed but we'll still have a lot to play for.
"So we just have to enjoy the moment and look forward to every game.
"It's a huge game. It was one of our targets before the season, one of our goals and we can achieve it. Now we're 90 minutes, hopefully, from a trophy."
Celtic are boosted by the news that Virgil van Dijk's ban for being sent off against United in last weekend's Scottish Cup tie has been overturned, freeing him to play at Hampden.
"I'm very happy for him, and also for the team," Deila commented.
"I think it was the right decision. He's been unlucky twice with red cards.
"In Europe it was not right and this was also not right so it's very good that he didn't get any suspension and can play the final."
Deila says he is driven to avoid the disappointment he suffered as a player when he lost a cup final in his homeland.
His side Odd were defeated 1-0 by Valerenga in the Norwegian Cup in 2002, and Deila says the defeat still haunts him.
"I've lost one cup final in my life and that's maybe the worst thing I've done.
"It was the last game of the season. I was one week away from football after that.
"We'll do everything we can to make a good performance. That's the only thing we can make sure of, and if Dundee United beat us then it is easier to accept it.
"If we play bad and lose that's the worst thing, but I know if we play really good we have the quality in the team to win the game and that's the target."