Arsenal: Alex Oxlade-Chamberlain out 'for three to four weeks'
Last updated on .From the section Football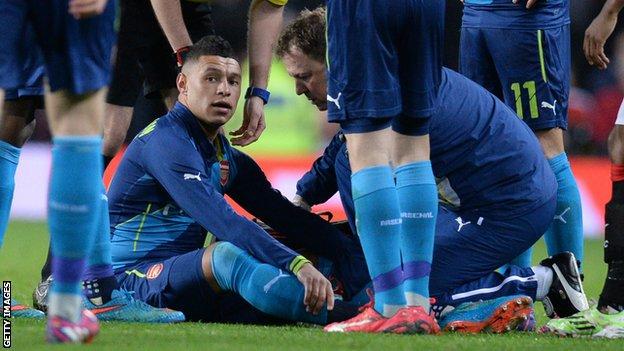 Arsenal winger Alex Oxlade-Chamberlain has been ruled out for "three to four weeks" with a hamstring injury, according to manager Arsene Wenger.
Oxlade-Chamberlain only returned at the end of February after a month out because of a groin problem.
"It's frustrating. It's a shame that in the final sprint, he's not there," said Wenger.
Arsenal matches Oxlade-Chamberlain could miss
14 March:
West Ham (H);
17 March:
Monaco (A);
21 March:
Newcastle (A);
4 April:
Liverpool (H);
11 April:
Burnley (A)
England face Lithuania in a Euro 2016 qualifier on March 27 and meet Italy in a friendly four days later.
"He showed on Monday night what a important player he can be for Arsenal and for England," said Wenger.
The Frenchman added defender Gabriel was back in training after pulling a hamstring against QPR on 4 March.
Wenger was speaking before Saturday's home game against West Ham United. Here are the highlights from his news conference:
No return date for Wilshere
Midfielder Jack Wilshere is recovering from surgery to remove metal pins from his ankle and Wenger says it is too soon for the 23-year-old to be in the next England squad.
He said: "We have to respect the progression of his training, so it's very difficult to give you a date."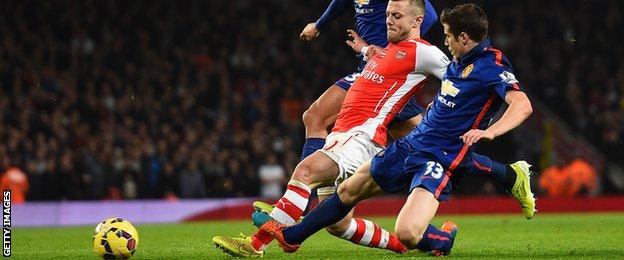 Top-four place 'more difficult every year'
With 10 games remaining, Arsenal are third in the Premier League, five points ahead of Southampton in seventh.
On the fight to finish in the top four, Wenger said: "Every year it gets more difficult because you have more teams who can compete for it and in future years it will be even harder.
"Every point is important now - our home form will be decisive at the end. We have six home games and they are all vital.
"You feel it is a period where you need composure, focus and mental strength and it is interesting to see how your players respond to that."
Break would not solve European problems
Chelsea were knocked out in the last 16 of the Champions League by Paris St-Germain, while Arsenal and Manchester City trail in their ties.
Wenger described as "superficial" the idea that a winter break would be advantageous.
He said: "We speak a long time about a winter break - it would be superficial to go to that cause.
"I believe Paris St-Germain, Barcelona are great teams - no matter if you have a winter break or not, you can be in trouble against these kinds of teams.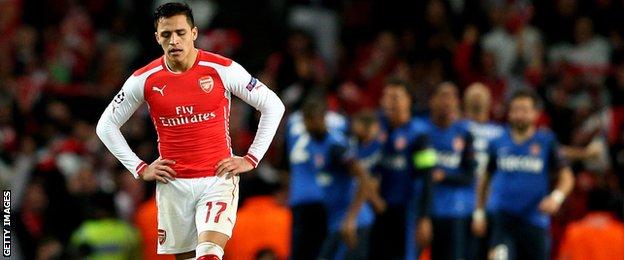 "It's too early to draw conclusions about the Champions League efficiency of the Premier League.
"It's true that it's a very demanding league physically and can have an impact but you could also say it gets you used to playing at the top level."
Monaco tie will not affect West Ham selection
Arsenal play the second leg of their Champions League tie in Monaco on Tuesday, trailing 3-1.
Wenger said: "Monaco is a very important game but West Ham is just as important, so that's why we just have to focus on tomorrow.
"What will affect my team selection is the number of players who have played a lot of games recently.
"I always rotate game by game but never more than two or three [players]. I haven't decided yet but I will rest one or two without affecting the balance of the team."