Swansea City striker Bafetimbi Gomis fit to face Liverpool
Last updated on .From the section Football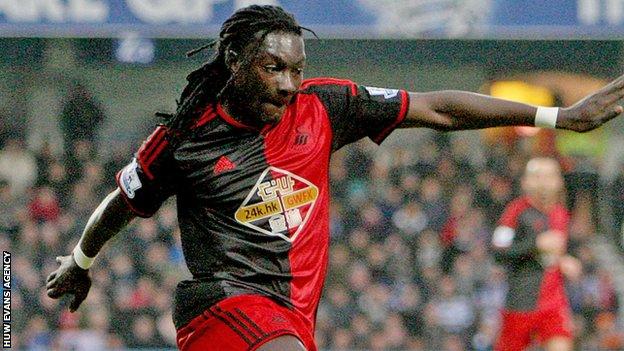 Swansea City manager Garry Monk says striker Bafetimbi Gomis will be fit to face Liverpool on Monday after fainting at Tottenham.
Gomis, who has a pre-existing medical condition, collapsed in the first half of the defeat to Spurs.
The France forward, 29, has returned to training and is available for the Premier League match at Swansea.
"As far as Bafe is concerned, he's fine. He's back in training, his usual self, and away we go," said Monk.
Gomis spent a night in hospital as a precaution after he fainted on the pitch during the 3-2 defeat to Tottenham.
The striker fainted three times in 2009 when he was at Lyon, and Swansea knew about his medical history when they signed him last summer.
The incident at White Hart Lane caused extra concern, however, as it was at the same venue that former Bolton player Fabrice Muamba suffered a cardiac arrest in 2012.
Muamba recovered, but never played again and some of the Tottenham players were visibly shaken when Gomis collapsed in the eighth minute of their Premier League game.
"Unfortunately Bafe's had to live with this all his life. It's nothing major in his life and we're very aware of it," said Monk.
"It's not such a big deal to us, but to the outside world, at a ground that's had that history with it, it's highlighted and I can understand why.
"Of course it's concerning when you see stuff like that but we also know it's not majorly a difficult thing for Bafe to deal with."
Such is Gomis' familiarity with his susceptibility to fainting, the former Saint-Etienne striker had even asked to be let back on the pitch at White Hart Lane.
But his request was flatly refused, and Monk says the player's safety is their primary concern.
"I've had it myself, been concussed in a game and carried on and felt fine, but ethically and medically it's not the right thing to do," he added.
"You have to bring him off. Bafe was on a stretcher screaming and shouting wanting to play on but, unfortunately, you can't do that.
"It's just a procedure you have to go through, and quite rightly so. We're totally aware of that, and Bafe is as well.
"It's not something that happens very often with Bafe but, when it does, we're in the right place, we've got the right people around to deal with it and we move on very quickly.
"The only concern is Bafe, make sure he's okay and ready to go."