Nigel Pearson: Leicester City boss wants better home form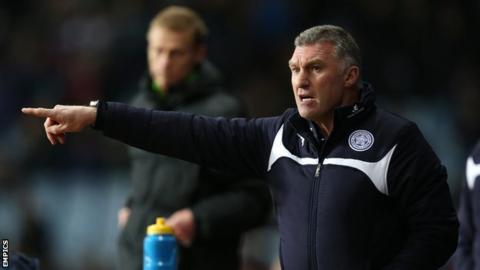 Leicester City manager Nigel Pearson has said his side must improve their home form if they are to avoid being relegated from the Premier League.
Leicester are bottom of the table, seven points adrift of safety with 11 matches to play.
The Foxes have won just two of their 12 home games this season, losing six.
"Our home form's not really been good enough this season and we would have expected it to have been better", Pearson told BBC Radio Leicester.
Leicester's Premier League home form
Saturday, 16 August: Leicester 2-2 Everton
Sunday, 31 August: Leicester 1-1 Arsenal
Sunday, 21 September: Leicester 5-3 Manchester United
Saturday, 4 October: Leicester 2-2 Burnley
Saturday, 1 November: Leicester 0-1 West Brom
Saturday, 22 November: Leicester 0-0 Sunderland
Tuesday, 2 December: Leicester 1-3 Liverpool
Saturday, 13 December: Leicester 0-1 Manchester City
Friday, 26 December: Leicester 1-2 Tottenham
Saturday, 10 January: Leicester 1-0 Aston Villa
Saturday, 17 January: Leicester 0-1 Stoke
Saturday, 7 February: Leicester 0-1 Crystal Palace
"It goes without saying that we need to make sure that our form at home between now and the end of the season is a key factor for us in a positive way.
"If we can do that then there is a greater possibility of us climbing out of the bottom three."
Leicester play seven of their final 11 Premier League fixtures at the King Power Stadium and face 15th-placed Hull this weekend.
"It's a game that certainly I would imagine both sides would will be trying to win, but Hull may be happier with a draw than us," Pearson added.
"We certainly need to win the game."