Steven Naismith: Stuart McCall 'great' for Rangers
Last updated on .From the section Rangers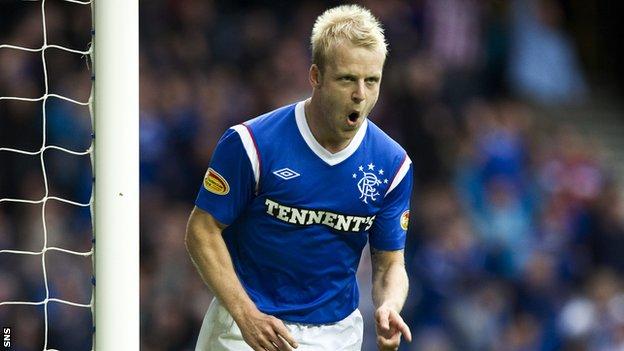 Former Rangers striker Steven Naismith hailed incoming manager Stuart McCall as a "great appointment" for the club.
Naismith, now at Everton, made 98 league appearances for Rangers, scoring 28 goals, during five years at Ibrox.
"Stuart's a great man-manager," the Scotland international, who has worked under McCall within the national set-up, told BBC Scotland.
"He's on the level of the players, and him playing at higher level, understands every player's needs."
McCall was appointed until the end of the season on Thursday, replacing caretaker manager Kenny McDowall.
The 50-year-old, who played for Rangers between 1991 and 1998, has been coaching with Scotland since Gordon Strachan began his reign in January 2013.
He guided Motherwell to two consecutive second-place finishes in the top flight before resigning in the wake of a poor start to this season.
McCall's new charges sit third in the Scottish Championship, five points behind Hibernian with two games in hand, but have won just once in their last seven fixtures ahead of Saturday's clash with bottom-placed Livingston at Ibrox.
"I think it's a great appointment," added Naismith. "For Rangers at the moment, you just need to look at the short-term predicament they're in.
"Everybody thought it was going to be a canter to get back into the Premiership and it's obviously not been. We're getting to a stage where games are running out and they need points. I think there had to be a change.
"Stuart's training's very good. He can be hard, he comes across as pretty gentle and a really nice guy when he's doing press conferences, but he's got a competitive side and expects levels to be high. I think that'll be the first thing he brings to the Rangers squad: nobody will have a free pass to be playing, they'll be there on merit.
"He will be brutally honest, and I'm sure he'll get the team playing the right way."
Naismith, 28, also argued Scottish football would be a healthier place with Rangers restored to the top flight.
"Not just for Rangers and everybody associated with them, but for Scottish football, Rangers need to be back at the top - it's as simple as that," he stated.
"I think everyone that was jumping on the bandwagon at the start to punish them as hard as they can will be looking now with a different view because the state of the game has went down quite significantly.
"The better teams that play in the league, get into Europe and last longer in Europe can only help Scottish football."