Lazio defender Abdoulay Konko faces nationality dilemma
By Oluwashina Okeleji
BBC Sport
Last updated on .From the section Football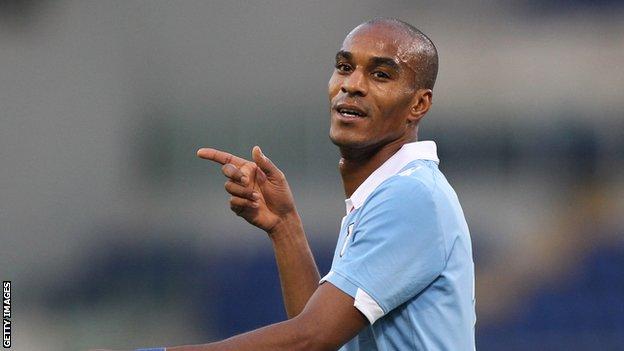 Lazio defender Abdoulay Konko says he rejected international call-ups from Senegal and Morocco to avoid tension within his family.
Konko was born in France to a Senegalese father and a Moroccan mother, making him eligible to play for the three countries at international level.
The 31-year-old has been called up by Morocco and Senegal in the past, but refused to honour either invitation citing family concerns.
"I've been called by Morocco and Senegal but I respectfully turned them down because I wouldn't want to hurt either of my parents by choosing one over the other," Konko told BBC Sport
"It's a tough decision because you don't want to create tension in the family so I decided to stay neutral.
"To some it sounds like a lazy excuse, but I love my parents and I prefer to spare them the agony of backlash from disappointed fans.
"If I had chosen Senegal, fans from Morocco will definitely criticise my decision, same for disappointed Senegalese, so it's a no-win situation," Konko explained.
Konko who has played in Italy for Juventus, Siena and Genoa admits his decision may have denied him an international career.
With the international window winding down for him and a loud silence from the snubbed African duo, Konko insists he has no regrets whatsoever.
"You live and die by your decisions as a man, so there is no regret on my part," Konko added.
"Interestingly, I read in the past that I was actually waiting for a France call-up, but that's absolutely untrue.
"That option never came up and was never discussed, so it was just mere speculation."
Marseille-born Konko started his career at French amateur side Martigues before moving to Turin in 2002.
The versatile defender, who has endured an injury-ravaged career, played on loan at Crotone between 2004-2006 before spells at Siena, Genoa and Spanish side Sevilla.
He joined Lazio on a five-year deal in the summer of 2011 and won the Italian Cup with the Rome side in 2013.