Jose Mourinho 'happy' only a few managers can match his success
Last updated on .From the section Football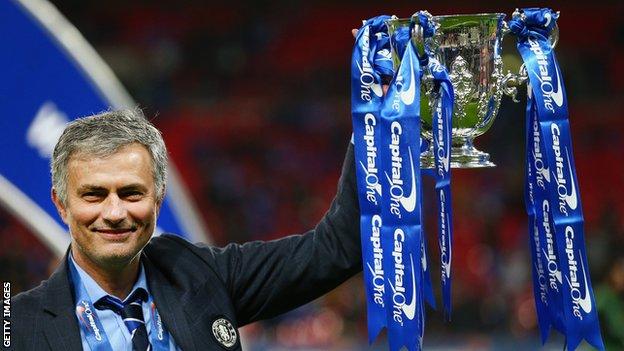 Chelsea manager Jose Mourinho says he is "happy" that only a few managers can match his success.
"My happiness, first of all, is when I compare myself with the others. I see just a few that are with me in terms of success," he said.
"And the others? I see a huge difference, a huge distance."
Europe's best
Jose Mourinho
: European Cup x 2 (Inter Milan 2010, Porto 2004), league title x 7 (Chelsea 04-05, 05-06, Real Madrid 11-12, Inter Milan 08-09, 09-10, Porto 02-03, 03-04)
Carlo Ancelotti:
European Cup x 3 (AC Milan 2003, 2007, Real Madrid 2014), league title x 3 (PSG 12-13, Chelsea 09-10, AC Milan 03-04)
Pep Guardiola:
European Cup x 2 (Barcelona 2009, 2011) league title x 4 (Bayern Munich 13-14, Barcelona 08-09, 09-10, 10-11)
Louis van Gaal:
European Cup x 1 (Ajax 1995) league title x 7 (Ajax 93-94, 94-95, 95-96, Barcelona, 97-98, 98-99, AZ, 08-09, Bayern Munich 09-10)
Arsene Wenger:
League title x 4 (Arsenal 97-98, 01-02, 03-04, Monaco 87-88)
Mourinho is attempting to win Chelsea's first Premier League title in five years and faces seventh-placed Southampton on Sunday.
He added: "I have lots of respect for all of them, but in the Premier League, who is European champion? Me and Louis van Gaal.
"In the Premier League, how many won the Premier League twice or more? Arsene Wenger and myself.
"How many won every competition in this country?
"You go to Europe, how many won seven league titles? How many won two Champions Leagues? Carlo Ancelotti won three. Van Gaal, two. And Pep Guardiola, two."